EzriCare Artificial Tears Lawsuit Indicates Exposure to Bacteria in Eye Drops Caused Vision Damage
May 05, 2023
By: Russell Maas
A California man has filed a lawsuit against the manufacturers of EzriCare Artificial Tears, alleging that exposure to Pseudomonas aeruginosa bacteria in the recalled eye drops caused him to develop a severe infection and permanent vision damage.
The complaint (PDF) was filed by Jamie Foti in the U.S. District Court District Central District of California, Southern Division on May 3, claiming the manufacturers advertised the eye drop products as safe for use, while failing to thoroughly test the products for bacterial contamination.
The case joins a growing number of EzriCare Artificial Tears lawsuits now being pursued by consumers nationwide, who have experienced Pseudomonas aeruginosa infections that have caused a wide range of health problems, including vision problems, bloodstream infections and death. A number of eyedrops class action lawsuits have also been filed against the manufacturers, seeking damages on behalf of all consumers who purchased the Artificial Tears products that were recalled in February 2023.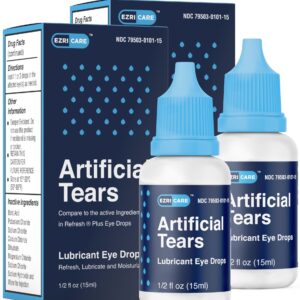 Artificial Tears Eye Drops Recall
The EzriCare Artificial Tears recall was announced by the U.S. Food and Drug Administration (FDA) on February 2, when the agency warned that at least 55 individuals had suffered eye infections after exposure to bacteria in eye drops, with several resulting in permanent blindness and at least one death from a severe bloodstream infection.
The recall impacted multiple versions of the lubricant eye drops sold in ½ fluid ounce (15 ml) bottles, including Artificial Tears packaged under the brand names EzriCare, as well as Delsam, with the following UPC and NDC codes;
Ezricare (blue box): NDC 79503-0101-15 with UPC 3 79503 10115 7, and
Delsam Pharma (white box): NDC 72570-121-15 with UPC -72570-0121-15
EzriCare Eye Infection Lawsuit
According to the complaint, Foti purchased EzriCare's Artificial Tears from a Walgreens in Santa Ana, California, where he began to use the products routinely for relief of dry and itching eyes.
Foti's states that shortly after beginning use of the eye drops on March 1, 2023, he began to experience irritation, swelling, extreme pain and discomfort in the eyes and skull, sensitivity to light, sensitivity to touch, blurred vision, ultimately causing him to be hospitalized.
As a result of the exposure to the contaminated EzriCare eye drops, Foti states he has been left with permanent eye and vision damage, aggravation of a pre-existing condition and has accumulated expenses from being hospitalized and needing medical and nursing care treatments.
While the U.S. Centers for Disease Control and Prevention issued a warning about a multi-state outbreak of a rare strain of Pseudomonas Aeruginosa eye infections linked to the use of artificial tears products, Foti states that he was unaware of the warning at the time he started using the contaminated eye drops.
The lawsuit brings claims of product liability, design and manufacturing defects, failure to warn, fraudulent concealment and gross negligence, demanding a jury trial to seek damages in excess of $75,000.
Lawyers Reviewing EzriCare and Delsam Pharma Eye Drop Lawsuits
As the news about the recalled EzriCare and Delsam Pharma eye drops continues to spread, it is expected that the number of Pseudomonas aeruginosa infection lawsuits over the recalled eye drops will be filed in the coming months.
Lawyers are actively investigating potential eye drop infection lawsuits against the manufacturers and distributors of EzriCare and Delsam Pharma's eye drops for multiple injuries and side effects caused by the contamination, including;
Eye Infection
Partial Blindness
Permanent Blindness
Bloodstream Infection
Other injuries caused by the eye drops
FIND OUT IF YOU HAVE AN EZRICARE LAWSUIT
Submit information about problems experienced after exposure to bacteria in Artificial Tears eye drops to determine whether you or a loved one may be eligible to pursue an EzriCare lawsuit settlement.
FIND OUT IF YOU ARE ELIGIBLE
"*" indicates required fields