Metals, Other Materials in Medical Devices May Be Causing Hypersensitivity and Inflammatory Reactions, FDA Warns
March 20, 2019
By: Irvin Jackson
Medical devices may be causing certain individuals to experience hypersensitivity and inflammatory reactions due to certain metals and other materials in products like breast implants, birth control implants and metal-on-metal hip replacement systems, according to federal health officials.
On March 15, FDA Commissioner Scott Gottlieb and Dr. Jeff Shuren, director of the Centers for Devices and Radiological Health issued a statement indicating the FDA was reviewing a number of materials that may be behind adverse reactions to certain medical device implants, and announced an upcoming advisory committee hearing to address the issue.
"Based on our evaluation and discussions with experts elsewhere in the government and academia, we believe the current evidence, although limited, suggests some individuals may be predisposed to develop an immune/inflammatory reaction when exposed to selected materials," they wrote. "The symptoms some patients experience may be limited to the region where the device is implanted or may be more generalized."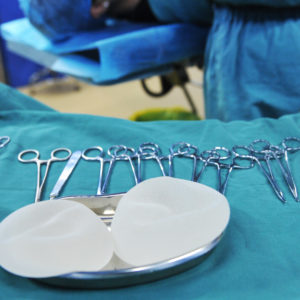 The symptoms of these reactions can include fatigue, rash, and joint and muscle pain or weakness, the statement indicates. However, those symptoms may not develop until several years following implantation, according to the warning.
The agency suggests these types of reactions to certain materials may be behind illnesses and cancer cases linked to breast implants, adverse reactions to nitinol in Bayer's Essure implant, complications linked to metal-on-metal hip replacement systems and other devices.
A number of these products have either been severely restricted or removed from the market completely. Once a major portion of the hip implant market, all metal-on-metal hip designs have been removed from the U.S. market either through recalls or decisions by manufacturers that they were not worth the trouble. The FDA warning indicates there are currently no metal-on-metal hip implants approved for use in the United States.
In addition, Bayer removed all Essure birth control implants from the market in December. Although it claims it was a marketing decision, the manufacturer removed the implants from markets worldwide as regulatory agencies raised concerns and placed restrictions on the implants' use.
FDA officials have reported that the agency received about 12,000 adverse event reports related to the Essure birth control implant last year. In April, the FDA made changes to Essure's premarket approval, requiring both doctors and patients to sign off on a checklist of potential Essure complications.
Bayer currently faces more than 18,000 Essure lawsuits filed by women nationwide, each involving similar allegations that the birth control device left them with severe and devastating injuries.
Breast implants, however, are currently still on the market, and the FDA and other regulatory agencies worldwide are still unraveling the causes of what have become known as breast implant-associated anaplastic large cell lymphoma (BIA-ALCL), a form of cancer linked to textured breast implants. However, in addition to cases of BIA-ALCL,  doctors are indicating they are seeing increasing cases of "breast implant illness," commonly involving chronic side effects, such as fatigue, cognitive problems, muscle and joint pain, hair loss, infections, gastrointestinal problems, rashes and thyroid issues. In many cases, the problems have led women to have their breast implants removed, and concerns about the risk have become a factor many are questioning whether to undergo breast enhancement or reconstruction surgery.
FDA Investigation
Gottlieb and Shuren say the agency has been evaluating the evidence on these hypersensitivity and inflammatory reactions. That evidence includes current studies, adverse event reports, and is being studied by the Center for Devices and Radiological Health's Office of Science and Engineering Laboratories.
However, they note that because the symptoms may not develop for several years, those reactions could be missed by clinical studies.
"Enhancing our collective understanding of materials science could lead to identifying materials that may cause an exaggerated response in sensitive individuals and advance the development of safer matererials," Gottlieb and Shuren wrote. "Development of new tests to identify at-risk patients would help ensure they do not receive implantable devices that contain the material to which they are sensitive, therefore further enhancing patient safety and advance a precision medicine approach to the selection of devices interventions."
The statement indicates the FDA will begin an effort to engage the public, scientists, and manufacturers to gather information on the current state of the science and find critical gaps that need to be addressed, as well as determine the correct approach to increase the agency's understanding of medical device materials.
As part of that effort, they indicated the FDA will hold an advisory committee meeting this fall to discuss metal implants and the risks of patient hypersensitivity or immune and inflammatory reactions. Before the meeting, which has not yet been scheduled, the FDA will issue a peer-reviewed white paper summarizing the agency's current knowledge on metal implants and how they react with the body.
Michelle

March 29, 2019 at 3:39 am

I have every symptom on the list and have been diagnosed with everyone. I had saline implants in 2005,again in 2013. Switch to silicone in 2017 and my health to a huge turn . I never had anything wrong until silicone implants were put in me. I have every symptom and ever one diagnosed that is on this list. Dec 2018 i learned i am. HLA-b27 positive and very suscepitible to autoimmune diseases from[Show More]I have every symptom on the list and have been diagnosed with everyone. I had saline implants in 2005,again in 2013. Switch to silicone in 2017 and my health to a huge turn . I never had anything wrong until silicone implants were put in me. I have every symptom and ever one diagnosed that is on this list. Dec 2018 i learned i am. HLA-b27 positive and very suscepitible to autoimmune diseases from silicone exposure. I am going through hell and i have never heard 1 surgeon ever ask or submit a blood test for that. 1 of my many doctors my rhematologist ran the test on me. I have swollen lympnodes all over. I have 2 file cabinets full of doctors and test. And still they say implants are safe. I just want my life back!

Christi

March 29, 2019 at 1:15 am

Had Mentor Silicone 650cc implanted for reconstruction due to Breast Cancer Apr2017. I chose to forego Chemo and Radiation because of the toxicity of both. Was never told they had all the metals, chemicals and toxins that they have. My PS told me they were safe and did not leak and cut into one to show they were not liquid form. My PS knew I have the Chek2 gene mutation that makes me 25% more [Show More]Had Mentor Silicone 650cc implanted for reconstruction due to Breast Cancer Apr2017. I chose to forego Chemo and Radiation because of the toxicity of both. Was never told they had all the metals, chemicals and toxins that they have. My PS told me they were safe and did not leak and cut into one to show they were not liquid form. My PS knew I have the Chek2 gene mutation that makes me 25% more likely to develop a major cancer and he never made one remark about the chemicals and carcinogens that are in implants nor suggested that I look into some other method of reconstruction... never signed anything explaining this or received a brochure about my implants prior to surgery. When I came home from hospital there was a brochure from a Mentor in my hospital packet but that was after the fact and still did not inform me as to all the dangers.. my PS was negligent for implanting these in someone with cancer and Mentor is negligent in producing a device with known carcinogens in them. My issues almost started immediately and quickened after a 2nd revision surgery Jun2017 that PS rein planted the same implants after he reopened me and placed them in bowl at back of surgery room while doing work on me.. instructions to Surgeons state that implants should never be cleaned and reused and that a new pair should be used.. my issues escalated after that surgery until I explanted 12-29-18.

Deborah

March 29, 2019 at 1:06 am

Cancer survivor, bilateral mastectomy and reconstruction with Allergan natrelle silicone implants. I have breast implant illness and test positive and allergic to latex and benzene. Diagnosed to date connective tissue disease, lesion ground glass opacities left lung, 30 MS type markers on brain, partial neuropathy, sural neuropathy, chronic fatigue, disk bulges in spne, low blood pressure, dysbio[Show More]Cancer survivor, bilateral mastectomy and reconstruction with Allergan natrelle silicone implants. I have breast implant illness and test positive and allergic to latex and benzene. Diagnosed to date connective tissue disease, lesion ground glass opacities left lung, 30 MS type markers on brain, partial neuropathy, sural neuropathy, chronic fatigue, disk bulges in spne, low blood pressure, dysbiosis, auto immune issues, potentially demyelinating disease etc
"*" indicates required fields