FDA Urges Infant Formula Industry to Improve Safety of Manufacturing Processes After Similac Recall
September 25, 2023
By: Irvin Jackson
Federal regulators are calling for infant formula manufacturers to improve safety practices at their manufacturing facilities in the wake of last year's massive Similac recall, which was linked to outbreaks of cronobacter and salmonella food poisoning, which sickened babies nationwide.
The U.S. Food and Drug Administration (FDA) says it is taking significant actions to shore up the safety of powdered infant formula manufacturing in an update issued on September 20, indicating that it is collaborating with industry, as well as academics and consumer groups to explore ways to make the process more secure.
Infant Formula Cronobacter Food Poisoning Concerns
The FDA is particularly focused on Cronobacter sakazakii illnesses, which were at the heart of the Similac recall issued in February 2022, following illnesses linked to powdered infant formula manufactured at a Michigan facility.
Cronobacter sakazakii is a rare type of bacteria, often found in dry foods, such as infant formula, skimmed milk powder, tea and starches. The bacteria exists in the environment and can survive in very dry conditions, making transmission of the infection possible by touching contaminated surfaces.
The infections can be particularly deadly for infants and the elderly, or those with weakened immune systems. The bacteria may cause serious life-threatening infections or meningitis (an inflammation of the membranes that protect the brain and spine).
Following the Similac formula recall, subsequent investigations have revealed that Abbott ignored industry safety standards and best practices at its facility for years, endangering children for the sake of profits, leading to individual and class action lawsuits filed throughout the federal court system.
Abbott now faces dozens of Similac recall lawsuits brought by families of infants nationwide who were diagnosed with salmonella, cronobacter or other infections linked to bacteria at the manufacturing facility, and serious questions are being raised about why the problems were not addressed much earlier.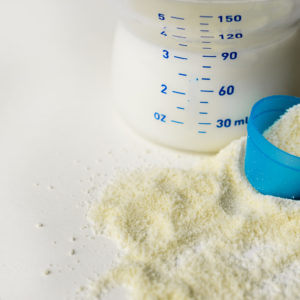 FDA Infant Formula Safety Warning Letters
According to the latest FDA update, a letter was sent to infant formula manufacturers, packers, distributors and others in March 2023, calling on the industry to evaluate its production and processing controls, to ensure they are being implemented appropriately and are in full compliance with all relevant regulations. The agency also called on manufacturers to voluntarily notify the FDA any time a sample tests positive for cronobacter or salmonella.
Since that time, the FDA also indicates it has hired more dedicated investigators to inspect infant formula manufacturing facilities, is collaborating with various stakeholders to explore possible ways to enhance production safety, and is joining the Council of State and Territorial Epidemiologists (CSTE) in calling for the elevation of cronobacter to a nationally notifiable disease, which the group announced in late June.
"While these actions are specific to work guided by the prevention strategy, the FDA has continued to undertake additional steps to enhance its regulatory oversight of the infant formula industry," the FDA notes in the update. "This includes the recent issuance of three warning letters to infant formula firms in August 2023. The letters reinforce the importance of instituting and maintaining appropriate corrective actions when pathogens are detected to ensure compliance with the FDA's laws and regulations."
The August warning letters were sent to the manufacturers of Gerber, Enfamil and ByHeart infant formula manufacturers. The FDA indicated that inspections conducted in recent months at the facilities identified several violations of the Federal Food, Drug, and Cosmetic Act, as well as the FDA's infant formula regulations.
According to the letters, the FDA is requiring the manufacturers to conduct root cause investigations, to determine how cronobacter bacteria was able to contaminate their facilities. The companies will be required to perform subsequent cleaning and sanitation activities and must properly reevaluate their cleaning and sanitation practices, schedules, and procedures before releasing infant formula products.
Similac Recall Lawsuits
The Abbott Laboratories Similac recall was one of the largest infant formula recalls issued in recent years, sparking a nationwide shortage as parents and caregivers scrambled to find safe alternatives to a product which dominated the infant formula market for years.
Within days, reports began to surface that suggested the company knew about the Similac contamination problems at its facility since at least September 2021, when the Minnesota Department of Health began investigating a case involving an infant infected with Cronobacter. In the months following the recall, at least two infant deaths and hundreds of illnesses were reported by parents who fed the contaminated baby formula to their children.
Subsequent investigations have revealed that Abbott ignored industry safety standards and best practices at its facility for years, endangering children for the sake of profits, leading to individual and class action lawsuits filed throughout the federal court system.
Given common questions of fact and law raised in complaints filed against Abbott over the Similac recall, the U.S. Judicial Panel on Multidistrict Litigation (JPML) established coordinated pretrial proceedings before U.S. District Judge Matthew F. Kennelly in the Northern District of Illinois, who is working with the parties to select a small group of bellwether cases for early trial dates.
In addition to lawsuits over the Similac cronobacter recall, Abbott Laboratories also faces a separate group of infant formula lawsuits involving premature babies diagnosed with a devastating intestinal condition after using cow's milk-based products, known as necrotizing enterocolitis (NEC). Similar allegations have also been raised in a number of Enfamil lawsuits brought against Mead Johnson, who received one of the FDA warning letters last month.
"*" indicates required fields