Similac, Alimentum and EleCare Class Action Lawsuit Filed Against Abbott Over Problems From Recalled Infant Formula
March 28, 2022
By: Irvin Jackson
Abbott Laboratories faces another class action lawsuit over it's recently recalled Similac, Alimentum and EleCare formula, indicating that the company put children in danger by not responding in a timely manner to known contamination problems at a Michigan facility, which resulted has resulted in a number of illnesses and infant deaths nationwide.
A massive Abbott baby formula recall was just announced on February 17, after the manufacturer acknowledged that several different products sold under the Similac, Alimentum and Elecare brand names were distributed nationwide in recent years, which may be contaminated with Salmonella Newport and Cronobacter sakazakii bacteria.
Within days, reports began to surface that suggested the company knew about the Similac contamination problems at its facility since at least September 2021, when the Minnesota Department of Health began investigating a case involving an infant infected with Cronobacter.
Two U.S. Senators have already launched an inquiry, asking why Abbott delayed issuing a recall or warning parents, and a number of Similac, Alimentum and EleCare recall lawsuits have been filed by parents of babies who suffered injuries.
Similac, Alimentum and EleCare Lawsuits
Did you baby experience an illness after being fed recalled Similac, Alimentum or EleCare formula?
CONTACT A LAWYER
In a complaint (PDF) filed last week in the U.S. District Court fro the Central District of California, Arturo Andaluz indicates his child was one of those sickened after consuming the tainted infant formula, indicating that Abbott failed to take steps that could have prevented the problems, failing to perform due diligence in testing and quality control for formula that was intended for use among the most vulnerable members of society.
"[Abbott] failed to test a representative sample of an infant formula production aggregate of powered infant formula at the final product stage and before distribution to ensure that the production aggregate met the required microbiological quality standards," the lawsuit states. "Subsequent inspections establish a pattern of Defendant's disregard of reasonable, responsible industry practices, as well as applicable statutes and regulations, with respect to manufacture, processing, packing, and holding of Similac, Alimentum and EleCare powdered infant formulas."
Since the recall, reports have been flooding in from parents of babies who have been diagnosed with Salmonella or other infections after various different versions of powdered formula sold by Abbott were used, often resulting in hospitalization or prolonged illnesses. At least two infant deaths have been tied to the recalled infant formula as well.
Less than two weeks later after the initial recall, on February 28, 2022, Abbott expanded the Similac recall after learning about another infant's death following use of a product that was not previously included in the recall. This has left many families questioning whether the full scope of the problems have been disclosed, and how long the company may have been aware of babies developing Similac Salmonella and Cronobacter infections.
Andaluz's lawsuit seeks class action status to pursue damages for all consumers who purchased Similac, Alimentum or EleCare, paying a premium for potentially dangerous infant formula which carried no warning label about the risks of bacterial contamination.
The lawsuit presents claims of unjust enrichment, negligent misrepresentation and omission, breach of warranty, failure to warn, manufacturing defect, false and misleading advertising, negligence per se, and violations of California consumer protection laws.
Problems from Similac for Premature Infants
The Similac, Alimentum and EleCare recall class action lawsuit comes at a time when Abbott was already facing claims that it placed a desire for profits before the health and safety of infants, with families throughout the United States pursuing necrotizing enterocolitis (NEC) lawsuits after premature babies developed the devastating and life-threatening gastrointestinal condition after being fed the company's cows milk-based formula in the NICU.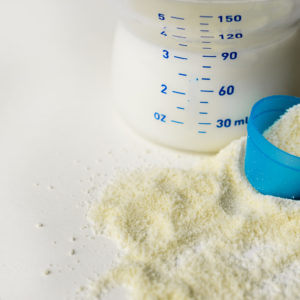 Those lawsuits allege that Abbott has known for years that Similac formula posed serious risks for premature infants, yet continued to market and promote its products for use among preemies and low-birth weight infants.
Multiple studies published in recent years have shown that premature babies are substantially more likely to develop NEC from Similac, Enfamil or other cow's milk formula products, when compared to infants only fed breast milk or donor milk. However, false and misleading information has been provided to families and medical providers for decades about the safety of the baby formula products.
Given similar allegations raised in a growing number of Similac NEC lawsuits and Enfamil NEC lawsuits being pursued throughout the federal court system, the U.S. Judicial Panel on Multidistrict Litigation (JPML) is scheduled to consider arguments later this week over whether the cases should be consolidated before one judge for coordinated pretrial proceedings.
Image Credit: Jonathan Weiss / Shutterstock.com
"*" indicates required fields