Gadolinium-Based MRI Contrast Agents Linked To Hypersensitivity Reactions: Study
February 23, 2022
By: Irvin Jackson
Exposure to gadolinium-based contrast agents (GBCAs) that are used to improve the magnetic resonance imaging (MRI) scans may place patients at risk for allergic-like hypersensitivity reactions, according to the findings of a new study.
Korean researchers say about one out of every 250 patients who receives a gadolinium contrast agent before undergoing an MRI scan suffers hypersensitivity reactions, with most of the cases being acute. Their findings were published online on February 22 in the medical journal Radiology.
Gadolinium contrast agents are commonly used during an MRI exam to improve the imaging and help doctors see abnormal tissue with more detail. The toxic metal used in the contrast dye is supposed to safely pass through the body for individuals without impaired kidney function, but there have been concerns in recent years about the potential risks associated with gadolinium deposits found in the brain for some users.
In this new study, researchers looked at all cases of hypersensitivity reactions to MRI contrast agents, which occurred at the Seoul National University Hospital between July 1, 2012 and June 30, 2020.
Researchers found 1,304 cases of hypersensitivity reactions (HSRs) out of 331,070 GBCA exposures in 154,539 patients. Those cases represent about 0.4% of exposures, and of those 1,178 were considered acute reactions. In a small number of those cases, the reactions were delayed, not appearing until a significant time after exposure. The risk of hypersensitivity reactions linked to GBCAs was more than four times higher than the risk associated with iodine-based contrast agents, the researchers determined.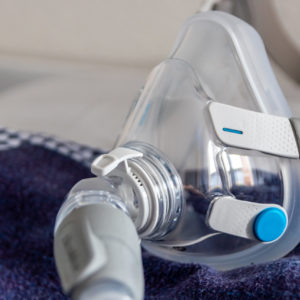 Did You Know?
Millions of Philips CPAP Machines Recalled
Philips DreamStation, CPAP and BiPAP machines sold in recent years may pose a risk of cancer, lung damage and other injuries.
Learn More
Mild reactions to the MRI contrast included throat discomfort, nasal congestion, sneezing and rhinorrhea, as well as limited urticaria and pruritus. Moderate reactions included mild wheezing, bronchospasm, hoarseness, facial edema, diffuse urticaria and pruritus and diffuse erythema. Severe reactions included life threatening symptoms including diffuse edema with dyspnea, diffuse erythema with hypotension, laryngeal edema with stridor or hypoxia, wheezing or broncospasms with hypoxia, symptomatic arrhythmias and anaphylactic shock.
However, researchers found that premedication with drugs used to treat such reactions, changing to a different type of contrast agent, appeared to significantly reduce the risk of patients developing hypersensitivity reactions, particularly in those patients with a history of delated allergic reactions.
"In conclusion, acute and delayed hypersensitivity reactions (HSRs) were observed in 0.4% and 0.04% of patients exposed to gadolinium-based contrast agents (GBCAs), respectively," the researchers noted. "In all patients undergoing MRI with GBCA exposure, a detailed history of previous HSRs should be conducted, and when necessary, appropriate prevention measures such as using premedication and switching to a different type of GBCA should be implemented."
Gadolinium Contrast Agent Side Effects
In December 2017, the FDA issued a drug safety communication for certain types of contrast agents, providing new information about the risk of gadolinium retention and potential side effects. As a result, manufacturers were required to provide new warnings and information in a Medication Guide, which all patients receiving an MRI contrast dye will be asked to read.
The FDA also recommended that health care professionals consider the fact that the body retains gadolinium when deciding whether to give it to patients that may be at higher risk of health problems. These include women who are pregnant or think they may be pregnant, patients with kidney problems, children, and patients when inflammatory conditions. The recommendations also suggest that repeated use of the contrast agents be minimized where possible, particularly when MRIs are scheduled closely together.
Patients are now urged to tell their health care professionals whether they are pregnant or may be pregnant, whether they have kidney problems, and the date of their last MRI with gadolinium, or whether they have had repeated MRI scans that involved the use of gadolinium contrast agents.
In recent years, there have also been growing concerns about the risk of gadolinium deposition disease, involving complaints of pain, brain fog and other symptoms experienced among individuals without kidney impairment, who have been found with an accumulation of the metal remaining in their body after an MRI exam.
"*" indicates required fields