Infant Side Effects of Heartburn Drugs and Antibiotics May Increase Risk Of Allergies In Children: Study
April 05, 2018
By: Irvin Jackson
New researcher suggests that for young children, side effects of heartburn drugs like Nexium, Prilosec and Zantac, as well as antibiotics, may increase the risk of developing allergies later in life. 
In a study published this week in the medical journal JAMA Pediatrics, researchers from the F. Edward Herbert School of Medicine in Maryland examined the risks associated with the use of acid-suppresive medications and antibiotics during infancy.
The retrospective cohort study looked at data on nearly 800,000 children who were Department of Defense TRICARE beneficiaries from October 1, 2001, through September 30, 2013. They reviewed exposure to histamine-2 receptor antagonists (H2RA) heartburn drugs, such as Zantac and Tagamet; proton pump inhibitors, such as Nexium, Prilosec and Prevacid; as well as the use of antibiotics.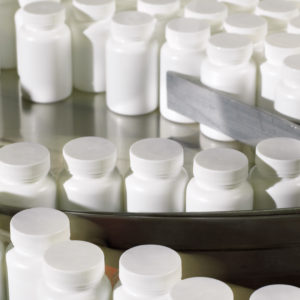 The study found that 7.6% of the children were prescribed an H2RA during the first six months of life, 1.7% were prescribed a PPI, and 16.6% were prescribed an antibiotic.
The use of any heartburn drug or antibiotic was linked to an increased risk of the development of food allergies, with PPI's carrying the highest risk. Heartburn drugs and antibiotics also increased the risk of medication allergies, anaphylaxis, allergic rhinitis and asthma.
Researchers found that the risk of food allergies was dose-dependent when it came to heartburn drugs of any kind, meaning that the more of the drug they took, the higher the risk. In particular, newborns who were given drugs like Nexium and Prilosec for more than 60 days had a 52% greater risk of developing a food allergy during childhood than those who were given PPIs for less than 60 days.
"[W]e found significant associations between the use of acid-suppressive medications or antibiotics in infancy and the development of allergic diseases in childhood," the researchers noted. "Use of acid-suppressive medications was positively associated with increased risks for all major categories of allergic disease and most strongly associated with food allergy."
The study comes about four months after findings published in the Journal of Pediatrics indicated that the use of heartburn drugs among some infants was linked to an increased risk of infections.
Researchers also raised concerns about the practice of giving acid reflex drugs to infants in the Journal of the American Medical Association (JAMA) in late September. That report indicated that infants have increasingly been given acid reflex drugs to treat mild gastroesophageal reflux (GERD), which can cause infants to spit up. However, the researchers in that study found that most infants grow out of that condition, and that those infants given heartburn drugs were more likely to experience bone fractures later in childhood.
Nexium, Prilosec Kidney Risks
This new study comes as a growing number of Nexium lawsuits, Prilosec lawsuits, Prevacid lawsuits, Protonix lawsuits and claims over other PPIs continue to be filed in courts nationwide, alleging that drug makers failed to adequately research the long-term risks associated with their heartburn drugs, or warn about the potentially life-threatening kidney injuries.
Since the drugs have been aggressively promoted without indication of any serious side effects, many users and doctors assume the medications are safe, and the medications are typically taken for long periods of time without any effort to reduce or stop the need for the medication. Experts have expressed concern that many users continue to take the drugs, even though there may be no real medical need any longer.
Serious questions have emerged about kidney risks associated with Nexium, Prilosec and other PPIs over the past three years, with studies and adverse event reports identifying a potential increase in the risk of acute kidney injury, acute interstitial nephritis, chronic kidney damage and kidney failure.
More recently studies have highlighted the potential link between Nexium and stomach cancer, suggesting that the popular drugs make also be twice as likely to develop the disease, with the risk of gastric cancer increasing dramatically the longer the medications are used.
As heartburn drug injury lawyers continue to review and file lawsuits against the manufacturers for failure to warn about potential risks associated with the medications, it is ultimately expected that thousands of kidney injury cases may be filed in the coming months and years.
Given similar questions of fact and law raised in the complaints, consolidated pretrial proceedings have been established in the federal court system, where all lawsuits are centralized before U.S. District Judge Claire C. Cecchi in the District of New Jersey to reduce duplicative discovery into common issues, avoid conflicting pretrial rulings and serve the convenience of the parties, witnesses and the courts.
"*" indicates required fields