Infant Formula Often Missing Key Hormones Found in Breast Milk: Study
March 27, 2023
By: Irvin Jackson
Amid growing concerns about the widespread use of infant formula products like Similac and Enfamil, especially among premature newborns, the findings of a new study highlights how the cow's milk products often do not contain enough of certain key hormones found in human breast milk, which are critical for a child's development.
In a study published in the scientific journal Nutrients on March 19, Hungarian researchers report they found differences in levels of key hormones in breast milk and infant formula products, including insulin, testosterone and albumin, as well as total protein levels.
The findings are the latest in a number of studies over the years suggesting breast milk, even if it has to come from donors and not the birth mother, is a better option than infant formula products for the growth and development of a child.
Infant Formula Concerns
In recent years, a number of prominent health organizations have raised concerns about the aggressive marketing of Similac, Enfamil and other cow's milk formula products, which have been promoted as an equally effective alternative to a mother's breast milk. False and misleading statements have been blamed for driving many families away from breastfeeding, and suppressed demand for human donor milk.
These allegations have been raised in a number of Similac lawsuits and Enfamil lawsuits being pursued by families of premature babies who developed a severe and life-threatening affliction, known as necrotizing enterocolitis (NEC).
Although a number of studies have found that premature babies fed cow's milk formula develop NEC at substantially higher rates than is seen among premature babies fed breast milk or donor milk alone, manufacturers of Similac and Enfamil have actively promoted use of their products among newborns still in the NICU, and even introduced specific formulations promoted for use among premature babies.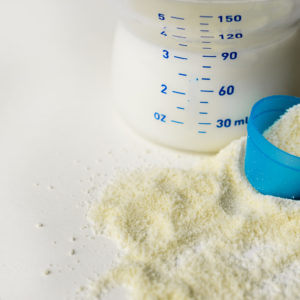 In this latest study, researchers looked at data on mothers of both preterm infants and mothers of full term infants, collecting donor milk from registered donor mothers for testing and testing samples of four infant formula products, including Nutricia Milumil Prnutra, Beba Optipro Hypoallergenic, Beba Optipro HA Pre, and Nestle's Start.
Researchers looked at the levels of insulin, testosterone, total protein and albumin levels in the breast milk and the infant formula products, finding that the infant formulas did not contain either insulin or testosterone, which are both key hormones in an infant's development. In addition, they did not provide as much protein as breast milk from healthy donors.
Insulin modulates blood glucose levels and protects against hypo- and hyperglycemia. It has been found to increase intestinal maturation and microbiome diversity in extremely preterm infants. Testosterone influences neurodevelopment and is thought to contribute to neurobehavioral sexual differentiation.
"If the mother's own milk is not available in the neonatal intensive care unit, donor milk is the recommended choice for preterm infants," the researchers concluded. "The use of donor milk reduces neonatal diseases, such as necrotizing enterocolitis, compared to formula milk."
Infant Formula vs. Breast Milk
The study's findings come about a month after researchers with the World Health Organization (WHO) warned that the marketing practices of infant formula manufacturers were "predatory", which has led to less breastfeeding over the years, despite the known health advantages.
When infant formula sales stagnated in the mid-20th century, the industry began promoting the cow's milk-based products through free samples, depicting them as scientific advancements which were superior to breast milk, the researchers noted.
After receiving pushback from those tactics in the late 1970s, companies like Abbott and Mead Johnson established international lobbying groups to discourage external regulation of the industry, and diversified its product offerings, while shifting the marketing to target low-income and working mothers, the researchers found.
Meanwhile, numerous studies published over the past several decades have extolled the virtues of breastfeeding, which has been found to deliver the necessary nutrients a newborn needs to thrive, provides some key immunities already developed by the mother, and helps the infant's digestive tract develop.
Studies have shown cow's milk-based baby formula products do not confer the same benefits as breastfeeding and may increase the risk that premature infants develope necrotizing enterocolitis (NEC); a devastating disease that occurs when the intestines are invaded by bacteria that destroys the bowels, often resulting in the need for emergency surgery. NEC frequently results in severe, life-long injuries or death.
A January 2022 study found that nutrients in breast milk help the intestinal epithelial layer mature in preterm infants, strengthening their resistance to NEC. However, these nutrients are not present in cow's milk-based infant formula marketed for premature babies, such as the popular Similac and Enfamil product lines.
March 2023 Baby Formula NEC Lawsuit Update
There are currently about 100 baby formula NEC lawsuits currently being pursued against by families throughout the federal court system against Abbott and Mead Johnson, alleging that children were diagnosed with NEC after being fed the formula. As a result of common questions of fact and law raised in the litigation, the claims have been centralized before U.S. District Judge Rebecca R. Pallmeyer in the Northern District of Illinois, for coordinated discovery and pretrial proceedings.
Each of the NEC lawsuits claim that manufacturers of cow's milk-based infant formula and human milk fortifier specifically marketing products for use by preterm newborns, without providing warnings to hospitals, doctors or families. However, as lawyers continue to investigate and file claims in the coming year, it is ultimately expected that several thousand lawsuits will be brought by families of infants diagnosed with NEC.
In November 2022, a group of 12 cases were selected for a NEC lawsuit bellwether pool, which will go through case specific discovery and prepared for a series of early trial dates expected to begin in 2024.
Although the outcome of these early bellwether trials will not have any binding impact on other claims, they are expected to have a substantial impact on any baby formula NEC settlements the manufacturers may offer to avoid the need for each individual case to be remanded back to U.S. District Courts nationwide for separate trial dates in the future.
"*" indicates required fields