Lasik Eye Surgery Warnings About Complication Risks Recommended by FDA
December 13, 2022
By: Russell Maas
Federal regulatory officials are urging doctors to warn patients about the potential side effects and risks of Lasik eye surgery, which are widely regarded as safe, but can leave some patients with chronic eye pain and other vision complications.
The U.S. Food and Drug Administration (FDA) initially released the draft guidance for Patient Labeling Recommendations for Lasik eye surgery in July, which included recommendations on how physicians should inform patients about the benefits and Lasik risks, which the draft indicates many patients are unaware of when electing to undergo the eye surgery.
LASIK is an outpatient surgical procedure that permanently reshapes the cornea to change the way the eye focuses light rays onto the retina at the back of the eye. The popular laser eye surgery is intended to correct common vision problems, such as nearsightedness, farsightedness, and astigmatism, and to reduce a person's dependency on eyeglasses and contact lenses. However, studies have found up to 45% of patients who undergo the laser eye surgery can expect some kind of vision problem.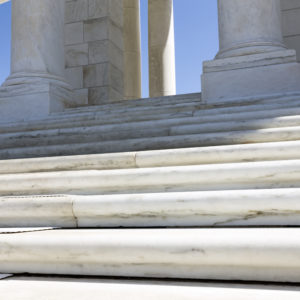 Do You Have A Case
Lasik Eye Surgery Lawsuits
Did you or a loved one experience severe Lasik eye surgery complications that were caused by a medical mistake during treatment?
CONTACT A LAWYER
While the majority of individuals who receive Lasik eye surgery have reported positive outcomes, the guidance warns doctors to educate patients who may be prone to adverse health effects caused by underlying medical conditions.
The guidance warns that patients who have received Lasik surgery have been left with vision problems including double vision, difficulty driving at night, dry eyes, and even chronic eye pain that the agency states has caused some users to report suicidal thoughts.
The Lasik eye surgery warnings indicate that patient populations who could be at the greatest risk of experiencing negative outcomes include individuals with moderate or mild dry eyes, past herpes eye infection, glaucoma, diabetics, those with weakened autoimmune disorders, or those with history of strabismus, which is a condition that causes crossed eyes.
Officials state that these conditions have been potentially linked to increased risks of possible infections after surgery, newly diagnosed double vision, and decreased vision in one or both eyes, blurred vision, light sensitivity and other side effects from Lasik surgery.
While the FDA is not calling for patients to avoid Lasik eye surgery, the guidance serves to help ensure patients understand the benefits and risks associated with Lasik so they can make an informed decision as to whether the procedure is the right choice.
Lasik Eye Surgery Warnings
In October 2009, the FDA, the National Eye Institute (NEI), and the Department of Defense (DoD) launched the LASIK Quality of Life Collaboration Project (LQOLCP), which aimed to determine the percentage of patients who develop post-Lasik surgery difficulties.
The study used tools and questionnaires to assess visual symptoms patients were experiencing before receiving the correctional surgery, and complications experienced after, to identify changes over time and possible long term side effects.
When the study began, there was very little scientific data on certain patient reported outcomes (PROs), and in 2009 the FDA issued a warning letter about the use of misleading ads which did not warn patients about all of the potential risks. The agency issued another Lasik warning letter in 2011.
The results from the study indicated that up to 45% of participants who had no visual symptoms before surgery reported at least one visual symptom at three months following the LASIK surgery, and some participates recorded having difficulty driving at night or in sunshine. The results further indicated 35% of participants who had no prior complications experienced halos within the first three months and 30% of the participants experienced severe dry eyes and other various debilitating vision symptoms.
Lasik Surgery Side Effects Monitoring
In June 2021, the FDA approved the PROWL-SS tool to assess the presence, bother and impact of four visual symptoms (double images, glare, haloes and starbursts) and satisfaction with vision in patients who have undergone Lasik surgery.
The tool will allow those receiving Lasik to answer a web-based questionnaire developed by LQOLCP, designed to assess specific patient-reported vision symptoms and satisfaction with vision after Lasik surgery.
Although rare, a number of patients have filed Lasik surgery malpractice lawsuits against eye surgeons over complications allegedly caused by a failure to follow the appropriate standard of medical care, most commonly involving problems that occur after a doctor fails to properly screen patients out as a potential candidate for the eye surgery.
"*" indicates required fields