Lawsuit Over Talcum Powder Ovarian Cancer Heads to Trial in St. Louis
September 28, 2016
By: Irvin Jackson
As women and families nationwide continue to file new talcum powder ovarian cancer lawsuits against Johnson & Johnson, another case is set to go before a jury this week in St. Louis, where two prior trials resulted in multi-million dollar damage awards over the manufacturer's failure to warn about the risks associated with their popular Baby Powder and Shower-to-Shower products.
A lawsuit filed by Deborah Giannecchinni will be at least the third case to go to trial in St. Louis involving allegations that a woman developed ovarian cancer following regular and consistent use of talcum powder for feminine hygiene purposes. Giannecchinni indicates that she used Johnson's talcum powder between 1967 and 2012, alleging that the practice caused her to develop ovarian cancer.
Two prior lawsuits over ovarian cancer from talcum powder have gone to trial against Johnson & Johnson in St. Louis, resulting in a verdict of $72 million in February 2016 and a separate verdict of $55 million in May 2016.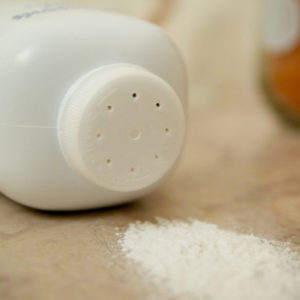 In each of those earlier cases, juries found that Johnson & Johnson knew about the risk that talc contained in their products may migrate through the vagina and increase the chances that a woman may develop ovarian cancer, finding that the company recklessly disregarded the health and safety of women by failing to warn about the practice of putting the powder around the genitals or in underwear.
The cases have been set for early "bellwether" trials to help gauge how juries may respond to similar evidence and testimony that is likely to be presented in several thousand other Johnson's Baby Powder lawsuits and Shower-to-Shower lawsuits brought on behalf of women nationwide.
While talcum powder is most commonly associated with its use in helping to prevent diaper rash and maintain smooth skin, plaintiffs argue that Johnson & Johnson encouraged women to apply the powder around their genitals to maintain "personal freshness." However, in many of the lawsuits over talcum powder ovarian cancer problems filed in courts nationwide, women allege that evidence of talc was found in their ovarian tumors.
Federal Talcum Powder MDL Considered
Most of the cases pending nationwide are currently filed at the state court level in Missouri. However, a growing number of claims are also being throughout the federal court system, with dozens of cases pending in different U.S. District Courts nationwide.
As the St. Louis jury prepares to hear evidence in the case presented by Giannecchinni, the U.S. Judicial Panel on Multidistrict Litigation (JPML) is expected to consider oral arguments tomorrow over whether to centralize the federal talcum powder litigation before one judge for coordinated discovery and pretrial proceedings.
A motion was filed in July by a group of plaintiffs, seeking to establish a federal talcum powder MDL, or multidistrict litigation, which would help reduce duplicative discovery into common issues in the cases, avoid contradictory rulings from different judges and serve the convenience of witnesses, the parties and the judicial system.
Some parties involved in the cases have disagreed over whether the litigation should be consolidated and where it should be centralized, since several cases are already ready for trial. However, such coordinated pretrial proceedings are common in complex product liability lawsuits, where a large number of individuals claim that they suffered the same or similar injuries after exposure to the same product.
As talcum powder ovarian cancer lawyers continue to review and file cases for women and families nationwide, it is widely expected that thousands of additional claims will be filed in the coming months and years.
If Johnson & Johnson is hit with another massive verdict in the Giannecchinni case, the manufacturer may face increasing pressure to discuss talcum powder settlements that would resolve claims for women diagnosed with ovarian cancer, to avoid facing individual juries nationwide.
"*" indicates required fields