Leader Eye Drop Recall Issued over Bacterial Contamination Risks
November 02, 2023
By: Katherine McDaniel
Following an eye drop contamination warning issued last week by federal regulators, Cardinal Health, Inc. has recalled multiple products sold under the brand name Leader, which may pose serious eye infection risks due to bacterial contamination.
The U.S. Food and Drug Administration (FDA) announced the Leader eye drop recall on November 1, after agency investigators found unsanitary conditions in the manufacturing facility, and sample testing identified bacteria in critical drug production areas.
As a result of the positive bacterial test results from the production site, the manufacturer has removed all lots of their eye drop products from the market. To date, the manufacturer and supplier have become aware of at least three complaints from consumers who experienced an adverse event or reaction after using the eye drops.
Eye Drop Warning
The recall follows an FDA advisory issued on October 27, which warned consumers that 26 different over-the-counter eye drop products sold under several popular brand names, including CVS, Target, and Rite Aid may contain harmful bacteria, which could cause severe eye infections that can potentially result in vision loss or permanent blindness.
FDA officials released the consumer warning, and recommended the manufacturers issue a recall, after sample testing confirmed that the manufacturing site of Velocity Pharma, LLC, which supplied dozens of different eye drop products to several distributors, was unsterile and contained bacteria that posed vision-threatening infection risks to consumers.
At the time of the warning, the agency indicated that CVS, Rite Aid, and Target were in the process of removing its products from store shelves and websites after becoming aware of the bacterial contamination. However, officials warned those distributed under Leader, Rugby, and Velocity brands were still available for purchase in stores or online, and should be avoided.
Leader Eye Drops Recall
The Leader recall impacts all lots of the following over-the-counter eye drop products distributed nationwide since December 12, 2021, with corresponding national drug codes (NDC) printed on the outer carton labeling:
LEADER Eye Irritation Relief (Polyvinyl Alcohol, 0.5%, Povidone, 0.6%, and Tetrahydrozoline Hydrochloride, 0.05%), 0.5 FL OZ bottle (15 mL), NDC 70000-0087-1
LEADER Dry Eye Relief (Carboxymethylcellulose Sodium, 1%), 0.5 FL OZ bottle (15 mL), NDC 70000-0089-1
LEADER Lubricant Eye Drops (Carboxymethylcellulose Sodium, 0.5%), 0.5 FL OZ bottle (15 mL), NDC 70000-0090-1
LEADER Lubricant Eye Drops (Carboxymethylcellulose Sodium, 0.5%), 2 bottles, 0.5 FL
OZ (15 mL) each, NDC 70000-0090-2
LEADER Dry Eye Relief (Polyethylene Glycol 400, 0.4% and Propylene Glycol, 0.3%), 0.33 FL OZ bottle (10 mL), 70000-0088-1
LEADER Lubricant Eye Drops (Propylene Glycol, 0.6%), 0.33 FL OZ bottle (10 mL), 70000-0587-1
Cardinal Health, Inc. announced that direct customer accounts impacted by the recall can expect an email notification to arrange for the return of the recalled products, and urged retailers to stop distributing them.
The recall notice indicates consumers should discontinue use of the eye drops, and return them to their original place of purchase for a full refund.
For more information on the recall, consumers may contact Sedgwick, Inc. by phone at 1-855-215-4940, Monday through Friday, from 8:00am-5:00pm EST, or by email at Cardinalhealth7720@sedgwick.com.
The FDA also urges consumers to report any adverse reactions or quality issues they experienced after using the products to the FDA MedWatch Adverse Event Reporting Program.
Artificial Tears Eye Drop Recall Lawsuits
The recalls and warnings come as federal regulators have been conducting random sample testing of eye products, following recent manufacturing issues that have plagued the industry.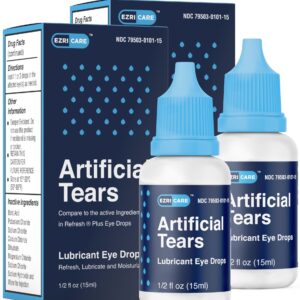 Earlier this year, a massive eye infection outbreak was linked to contaminated Artificial Tears eye drops, which were sold under the brands EzriCare and Delsam. An Artificial Tears recall was announced in February 2023, after dozens of users sustained severe bacterial infections, which resulted in several deaths.
The eye drops were found to be contaminated with Carbapenem-Resistant Pseudomonas Aeruginosa (CRPA), a bacteria strain that can cause severe health consequences due to its antibiotic resistant and mutating capabilities. In severe cases, the bacteria strain is also known to cause endophthalmitis, a rare but serious infection of the eyeball that can destroy eye tissue and cause irreversible vision loss or permanent blindness.
The recalled Artificial Tears eye drops have now been linked to at least 81 cases of bacterial eye infections, which has resulted in vision loss for multiple individuals, surgical eyeball removal for at least four consumers, and at least four deaths due to the contaminated products.
Among former users of the contaminated eye drops, a growing number of Artificial Tears eye drop lawsuits are now being filed against the manufacturers and distributors of EzriCare and Delsam Pharma's eye drops for multiple Pseudomonas aeruginosa infection injuries and side effects caused by the tainted products including;
Eye Infection
Partial Blindness
Permanent Blindness
Bloodstream Infection
Other injuries caused by the eye drops
"*" indicates required fields