Marine Corps Firefighter Files Lawsuit Over Prostate Cancer from Firefighter Foam
July 12, 2023
By: Irvin Jackson
A U.S. Marine who served as a firefighter for years has filed a lawsuit claiming he developed prostate cancer due to exposure to aqueous film-forming foam (AFFF) that was commonly used during his military service.
The complaint (PDF) was filed by Bruce Allen in the U.S. District Court for the District of South Carolina on July 7, pursuing damages from 3M Company, BASF Corp., DuPont and a number of other chemical and fire safety manufacturers as defendants.
AFFF has been used for decades by the U.S. military and local fire departments to combat fuel based fires. However, a growing number of firefighting foam cancer lawsuits are now being pursued, each raising similar allegations that the manufacturers failed to disclose serious health risks associated with PFAS chemicals contained in AFFF, which have been shown to increase the risk of prostate cancer, testicular cancer, kidney cancer and other injuries.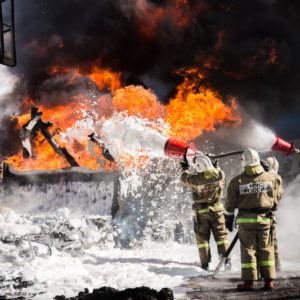 Allen indicates he was exposed to the toxic foam while serving as a firefighter in the U.S. Marine Corps. between 1977 and 1997. During that time, he was stationed at a number of Marine bases, including Parris Island and Camp LeJeune, among several others.
The lawsuit notes that throughout his service in the Marine Corps. firefighting foam was routinely used for training and response exercises, and stored on the Marine bases. However, the manufacturers never disclosed the nature of the toxic chemicals, and the side effects firefighting foam may pose to U.S. Marines.
"The descriptive labels and material safety data sheets for Defendants' AFFF containing [PFAS chemicals] utilized by firefighters with the United States Marine Corps did not reasonably or adequately describe AFFF's risks to human health," according to the complaint.
Military Firefighter Foam Risks
Aqueous film-forming foam contains a number of toxic PFAS chemicals, which are commonly referred to as "forever chemicals", since they are known persist and build up in the body and the environment.
While the chemicals are also widely found in products like non-stick pans, pizza boxes and other material, lawsuits allege that Marine firefighters came into direct contact with large volumes of the chemicals during training and response exercises.
The firefighting foam has also resulted in a number of PFAS water contamination lawsuits brought by individuals living on Marine Corps bases, after run off from training and response exercises polluted tap water.
Allen indicates his use of firefighting foam in the Marine Corps directly resulted in his prostate cancer diagnosis in June 2018. However, the complaint notes that he did not discover the link between his cancer and the firefighting foam until July 2021.
"As a result of his exposure to Defendants' fluorochemical products, Plaintiff was diagnosed with prostate cancer, which has caused Plaintiff to undergo a prostatectomy with bilateral pelvic lymph node dissection, and to suffer severe personal injuries, pain, suffering, and emotional distress," the lawsuit notes. "The injuries, pain, suffering, and emotional distress were caused by Defendants' fluorochemical products."
July 2023 Firefighting Foam Lawsuit Update
The case will be consolidated with hundreds of similar firefighting foam lawsuits being pursued in the federal court system, including claims brought by former military and civilian firefighters, as well as claims brought by individuals who lived near military bases where the chemicals were dumped into the environment and local municipalities left to deal with the cost of removing PFAS from tab water supplies.
Given common questions of fact and law presented in the litigation, all AFFF lawsuits are currently centralized before U.S. District Judge Richard M. Gergel in the District of South Carolina, for coordinated discovery, pretrial proceedings and a series of early bellwether trials.
In June 2023, 3M Company and other manufacturers agreed to pay over $12.5 billion to settle PFAS water contamination lawsuits brought by local water suppliers. However, the companies continue to face individual injury lawsuits, and no individual claims have yet gone before a jury.
Earlier this year, Judge Gergel directed the parties to select a group of 28 representative personal injury claims for an AFFF injury bellwether pool, involving plaintiffs who say they were exposed to chemicals that contaminated drinking water.
These cases will include eight kidney cancer claims, eight testicular cancer claims, eight thyroid disease claims and four ulcerative colitis claims. In addition, they will be limited to individuals alleging they were exposed to contaminated water near Peterson Air Force Base, Colorado Springs Municipal Airport, the Willow Grove Naval Air Station Joint Reserve Base and the Naval Air Warfare Center in Warminister.
The parties are expected to select the cases by July 28, and propose a joint list of selected or proposed cases to the court by August 11. However, the court has not yet outlined requirements for selecting individual firefighter cancer lawsuits for early bellwether trials.
While the outcome of these claims will not have any binding impact on the lawsuit filed by Allen, the average firefighting foam lawsuit payout may influence the average amounts manufacturers may pay to settle each injury claim in the future.
"*" indicates required fields