Mid-Size Pick Up Truck Rear Passenger Seat Safety Risks Highlighted in IIHS Report
July 06, 2023
By: Stephanie Yanovich
Despite a widely held belief that mid-size pickup trucks provide greater safety for passengers, new crash test results suggest many of the most popular models actually have rear seating designs which could increase the risk of serious injuries during front impact car accidents.
The Insurance Institute for Highway Safety (IIHS) published a new pickup truck crash test report on June 28, which indicates most mid-size vehicles tested had deficient safety ratings for the rear seats in the event of a front end crash.
Of the five 2022-2023 model year mid-sized pickups evaluated in the report, which include the Chevy Colorado, Ford Ranger, Jeep Gladiator, Nissan Frontier, and Toyota Tacoma, none received the top "Good" rating from IIHS.
The group has four categories of safety ratings, with a "good" rating the top one available, followed by "acceptable," "marginal," or "poor." Out of the five tested pickup trucks, the Nissan Frontier performed the best, earning an "acceptable" rating. The Ford Ranger received a "marginal" rating, while the Chevy Colorado, Jeep Gladiator, and Toyota Tacoma all received "poor" ratings.
IIHS officials modified testing protocols for large frame vehicles, like pickup trucks, minivans, and SUVs, in response to research released last year, which suggested rear-seat passengers are 46% more likely than front-seat occupants to sustain a fatal crash injury in SUVs made after 2006.
In April 2023, a different report issued by the group highlighted problems with rear seat SUV passenger restraints, finding that certain designs significantly increase risk of fatal head, neck, and chest impact in an accident.
Rear Seat Pickup Truck Passengers Face Heightened Risk of Fatal Injuries
In this latest passenger safety crash test, IIHS researchers evaluated five small crew cab pickup trucks from model years 2022-2023.  They placed sensors on an adult sized test dummy in the driver seat, and a rear dummy the size of a 12-year-old child behind the driver's seat. Then researchers used the sensor data to assess impact damage in a front end collision to each dummy's head, neck, chest, thigh, and midsection.
For a vehicle to earn a "good" IIHS rating, test dummies can't record excessive injury risk to the head, neck, chest, thigh, or midsection. Dummies should remain properly positioned throughout the crash without sliding forward beneath the lap belt, an event known as submarining. The rear dummy's head should remain a safe distance from the back of the front seat and the inside walls of the vehicle.
The crash test results indicated all five pickup trucks provided good front seat driver protection. However, in the Chevrolet Colorado, Nissan Frontier, Ford Ranger and Toyota Tacoma models, the back seat restraints allowed the rear dummy's head to come too close to the back of the front seat. This type of movement is known to increase the risk of neck and chest injuries in a crash.
Only the Jeep Gladiator provided adequate rear passenger protection from front seatback impact. However, IIHS officials noted the Gladiator still had rear seat safety deficiencies, including a lack of side curtain airbags that can increase injury risk in a front end impact.
Additionally, in the Ford Ranger, the rear dummy "submarined," or slipped, beneath the lap restraint belt, increasing the risk of midsection injuries.
Upon crash test completion, the Chevrolet Colorado, Jeep Gladiator, and Toyota Tacoma models all indicated moderate or likely rear passenger neck and chest injury risk, resulting in overall poor safety ratings. The Ford Ranger indicated a moderate rear passenger chest injury risk, resulting in a marginal overall safety rating. Only the Nissan Frontier earned an acceptable overall safety rating.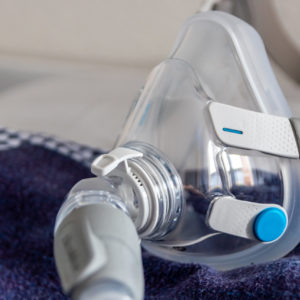 Did You Know?
Millions of Philips CPAP Machines Recalled
Philips DreamStation, CPAP and BiPAP machines sold in recent years may pose a risk of cancer, lung damage and other injuries.
Learn More
IIHS officials stressed that manufacturers should improve rear seat restraint systems to better protect rear passengers in a front end collision.
"Our updated moderate overlap front crash test proved to be challenging for small pickups," said IIHS President David Harkey. "A common problem was that the rear passenger dummy's head came dangerously close to the front seatback, and in many cases, dummy measurements indicated a risk of neck or chest injuries. All these things tell us that the rear seat belts need improvement."
Large Vehicle Safety Concerns
The findings come amid growing concerns over the safety, and growing popularity, of larger vehicles, but most of those concerns have been for those outside of the vehicles, not the occupants within.
Recent testing shows large frame vehicles like trucks, minivans, and SUVs pose a heightened injury risk to pedestrians. A 2021 study found vehicle related pedestrian deaths have increased in recent years with the rise in popularity of SUVs, minivans, and pickup trucks.
Safety experts suggest the robust front ends on large frame vehicles, which tend to sit higher and cause decreased visibility, may contribute to increased pedestrian death risk in a crash. They theorize the higher front ends line up with a pedestrian's upper body, causing more severe and potentially fatal upper body injuries during a collision.
Research indicates the high front end designs of SUVs, pickup trucks, and other large frame vehicles are especially dangerous to children and cyclists. A 2022 study showed children struck by SUVs are eight times more likely to die than adults.
"*" indicates required fields