Missouri Supreme Court Delays Talcum Powder Trial Involving 13 Women Diagnosed With Ovarian Cancer
January 29, 2019
By: Irvin Jackson
While a trial was expected to begin this month in Missouri involving claims brought on behalf of 13 women diagnosed with ovarian cancer from talcum power, the state Supreme Court has delayed the case until it can consider Johnson & Johnson's argument that the multi-plaintiff trial is unfair and violates their constitutional rights.
Johnson & Johnson currently faces nearly 12,000 Johnson's Baby Powder lawsuits and Shower-to-Shower lawsuits pending in courts nationwide, each involving similar allegations that the manufacturer has failed to warn consumers for decades about the cancer risks associated with their talc-based products, including ovarian cancer and mesothelioma claims.
While most of the cases are pending in the federal court system, a number of claims have been filed on multi-plaintiff complaints in Missouri state court, where several prior juries have already returned massive verdicts against the manufacturer, often including punitive damages designed to punish Johnson & Johnson from withholding safety information and continuing to promote use of the products among adult women for "feminine hygiene".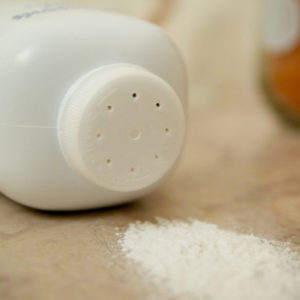 Last year, a trial involving 22 different women diagnosed with ovarian cancer resulted in a landmark $4.7 billion verdict awarded in Missouri state court, which the company is currently appealing.
With another multi-plaintiff trial originally expected to begin January 22, the Missouri Supreme Court granted Johnson & Johnson a writ of prohibition, staying the start of the trial.
In its petition, filed on January 9, Johnson & Johnson claimed the multiplaintiff aspect of the prior trial led to what it considers an excessive verdict. However, that verdict was upheld last month by the Missouri state court judge, who presided over the trial and indicated that the full amount of the compensatory and punitive damages awarded were supported by the evidence presented to the jury, saying the company had shown reprehensible conduct.
The Missouri Supreme Court did not explain its decision to grant Johnson & Johnson's request for a stay, and it is unclear when it will decide on the rest of the company's claims or when, or if, the trial for the 13 women will be rescheduled. Already, five of the 13 women have died as a result of the ovarian cancer that allegedly could have been avoided if accurate safety warnings had been provided.
In addition to multi-plaintiff trials, Johnson & Johnson has also faced a number of significant verdicts in individual talcum powder cases over the last few years.
In May 2018, a California jury ordered Johnson & Johnson to pay $25.7 million in a talc mesothelioma case. In April 2018, a New Jersey jury awarded $117 million to a man diagnosed with mesothelioma due to exposure from talcum powder, which included $80 million in punitive damages.
In December 2017, a talc powder case went to trial in California, resulted in a jury award of $17.57 million in compensatory damages and $4.6 million in punitive damages, for the family of man who died of mesothelioma in 2016, after years of exposure to talc.
While Johnson & Johnson is pursuing appeals in each of the cases that resulted in a verdict, and is refusing to negotiate talcum powder settlements, some analysts have suggested that the verdicts are a sign that juries find Johnson & Johnson's trial defense lacking in credibility.
"*" indicates required fields