Necrotizing Enterocolitis Lawsuit Filed Against Enfamil, Similac Manufacturers
March 08, 2022
By: Irvin Jackson
A California mother indicates that her premature daughter developed cerebral palsy and a failure to thrive after developing necrotizing enterocolitis (NEC) caused by Similac and Enfamil formula fed to her while she was still in the neonatal intensive care unit (NICU).
The complaint (PDF) was filed this week by Karrie Devine in the U.S. District Court for the Northern District of Illinois, on behalf of herself and her minor daughter, identified only as K.D., alleging that the the manufacturers Abbott Laboratories and Mead Johnson & Company failed to warn parents and medical providers about the risks associated with their cow's milk-based formula products, especially for premature infants.
According to the lawsuit, necrotizing enterocolits (NEC) developed after K.D. was intravenously fed Similac and Enfamil in the NICU following her premature birth in August 2005. Just four days later she was diagnosed with the devastating gastrointestinal condition, which causes the destruction of the intestinal tissue.
"K.D. was subsequently diagnosed with cerebral palsy and failure to thrive," Devine's lawsuit states. "At the time K.D. was diagnosed with and treated for NEC, Plaintiff was unaware of the fact that the Defendant's cow's milk-based products fed to their baby caused or substantially contributed to the development of NEC and resulting injuries." cerebral
Devine joins a growing number of families nationwide who are now pursuing a Similac NEC lawsuit or Enfamil NEC lawsuit against the manufacturers, each raising similar allegations that the manufacturers have withheld information about the risks associated with use of the formula with premature and low birth weight infants.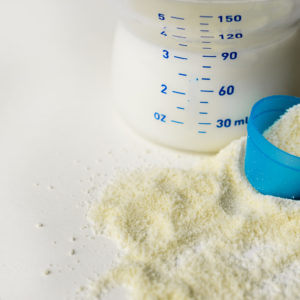 Studies have shown that cow's milk formula products like Similac and Enfamil cause NEC at substantially higher rates than is seen among premature babies fed breast milk or donor milk alone.
In a study published in November, Canadian researchers warned that preterm and low birth weight infants given cow's milk-based formula were three times as likely to be transferred to a neonatal intensive care unit (NICU) for suspected NEC than those given donor milk.
Similar findings were published in October in the medical journal Nutrients, which found that breast milk was the "gold standard" for nutritional support during infancy, with antimicrobial and bioactive factors which helped prevent NEC.
Given similar allegations raised in a growing number of necrotizing enterocolitis lawsuits being pursued throughout the federal court system, the U.S. Judicial Panel on Multidistrict Litigation (JPML) is scheduled to consider arguments later this month over whether the cases should be consolidated before one judge for coordinated pretrial proceedings.
In addition, Abbott Laboratories is also now facing a growing number of Similac recall lawsuits filed since it was discovered last month that certain versions of Similac, Alimentum and EleCare were contaminated with Salmonella, Cronobacter and other bacteria that has sickened infants in recent months.
Although reports suggest that Abbott learned about a Cronobacter sakazakii infection linked to Similac powder in September 2021, the company did not announce a baby formula recall until February 17, impacting products manufactured at the same Michigan facility.
"*" indicates required fields