Label Warnings On Other Talcum Powder Products May Have Affected J&J Cancer Trial Verdict
August 25, 2017
By: Irvin Jackson
Evidence that demonstrated the cancer warnings on talcum powder products sold by other companies may have played a factor in the $417 million verdict against Johnson & Johnson earlier this week, in a California bellwether trial brought by a woman diagnosed with ovarian cancer following years of using Johnson's Baby Powder or Shower-to-Shower brand products. 
On Monday, a state court jury awarded Eva Echeverria about $70 million in compensatory damages due to Johnson & Johnson's failure to warn that use of their talcum powder for feminine hygiene purposes may increase the risk of cancer, with another $347 million in punitive damages added to punish the company for recklessly disregarding the safety of consumers.
While this is at least the fifth massive verdict against Johnson & Johnson about the failure to warn about talcum powder risks, this was the first trial to include certain evidence that may have played a part in the land-mark damage award, according to a report by Law.com.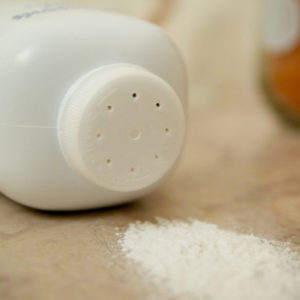 Evidence presented in prior Missouri state court trials already included company documents that suggested Johnson & Johnson was aware of the potential link between talcum powder and ovarian cancer for decades, with some documents indicating that the company specifically targeted sales towards women who were high users of talcum powder, without ever warning them of the possible cancer risks.
Faced with that evidence, juries in St. Louis previously awarded individual women $110 million in May 2017, $70 million in November 2016, $55 million in May 2016 and $72 million in February 2016.
However, Echeverria's trial involved additional evidence not presented in the other cases, including ovarian cancer label warnings that had been placed on other talcum powder products sold at Walmart and Dollar Tree, while Johnson & Johnson sold products without providing any information about the risks associated with peritoneal use.
The jury was also presented with evidence that two members of the Cosmetic Industry Review that declared talcum powder to be safe were paid by Johnson & Johnson for participating in a number of events, such as speeches. The trial also revealed that Dr. Douglas Weed, a Johnson & Johnson epidemiologist, had been sanctioned in a previous trial for lying under oath about notes he kept for an expert report.
Given the massive verdict in this latest case, which is larger than all of the previous jury awards combined, it is likely that this evidence played an important role in the punitive damages the jury ordered the company to pay.
While Johnson & Johnson previously suggested that the verdicts in Missouri were an anomaly, and would not be repeated outside of the St. Louis court, the even larger verdict returned by the California jury may spell huge problems for the company, which faces more than 5,500 Johnson's Baby Powder lawsuits and Shower-to-Shower lawsuits brought by women nationwide who have been diagnosed with ovarian cancer following use of the product around their genitals.
Attorneys for Johnson & Johnson have indicated the company will appeal this latest verdict, like they are appealing prior verdicts in St. Louis. However, with additional cases set for trial involving similar claims brought by women nationwide, if talcum powder settlements or another resolution for the litigation is no reached, the manufacturer may face staggering liability from juries nationwide in the coming years.
"*" indicates required fields