Ozempic Hair Loss Problems Linked To Misuse for Weight Loss, AHLA Warns
May 18, 2023
By: Irvin Jackson
A group of hair loss experts are warning about potential side effects of Ozempic, a new generation diabetes drug, which has been linked to reports hair loss problems when misused as a weight loss treatment.
In an editorial published in Dermatology Times on May 14, Spencer David Kobren, founder of The American Hair Loss Association (AHLA) and The International Alliance of Hair Restoration Surgeons, warned against misuse of Ozempic for weight loss, indicating that the hair loss experts do not recommend the off-label use of the diabetes drug.
Ozempic (semaglutide) was originally approved for the treatment of people with Type 2 diabetes. However, in recent months Ozempic, along with a similar drug, Wegovy, has been increasingly prescribed for weight loss. While Wegovy is approved for weight loss use, Ozempic is not, and is prescribed "off-label" as a diet medication by a growing number of doctors.
While clinical trials linked Wegovy to triple the risk of hair loss when compared to those who took a placebo, no such side effects are listed in reference to Ozempic, which is typically given at a much lower dose when used for treatment of diabetes.
Manufacturers and some health experts say the hair loss, known as alopecia, may be related to the weight loss the drugs are causing. Patients undergoing weight loss surgery are often warned of the risk of hair loss due to the body's attempt to conserve resources, but some consumers say there appears to be something more serious happening.
Ozempic Hair Loss Risks
Some doctors have claimed hair loss after Ozempic use is a natural result of rapid weight loss. This effect is known as telogen effluvium. However, Kobren indicates that Ozempic may also cause hormonal shifts which can also trigger early onset pattern hair loss in men and women, known as androgenic alopecia, which is progressive and continues to worsen over time. This can lead to permanent hair loss.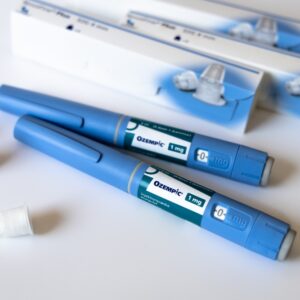 Find Out If You Have a Lawsuit
Kobren indicates the drug may lead to hair follicles becoming miniaturized, resulting in thinner, shorter hair strands, which may eventually lead to baldness or thinning hair.
"The AHLO strongly advises against the misuse of Ozempic and related GLP-1 receptor agonists for any reason other than their intended purpose of treating diabetes and obesity," Kobren says in the editorial. "These drugs should only be used under the supervision of a health care professional. Individuals who are experiencing hair loss or other side effects while taking semaglutide or similar drugs should speak with their health care provider."
---
Find Out If You Qualify for Ozempic or Wegovy Compensation
"*" indicates required fields