Pediatricians Issue New Guidelines for Premature Infant Care
July 05, 2023
By: Irvin Jackson
Doctors should follow-up with prematurely born infants every nine months, until they are at least five years old, in order to detect early signs of physical or intellectual disabilities, according to updated recommendations issued by a group of pediatric experts.
The American Academy of Pediatrics (AAP) indicates that one in every 10 infants is born preterm, which includes all deliveries with less than 37 weeks of gestation.
Premature birth is well known to increase the risk of serious pediatric complications, such as necrotizing enterocolitis (NEC), hypoxic-ischemic encephalopathy and other conditions, making it the leading cause of newborn infant deaths in the United States. However, early deliveries also carry long term risks for the child, which may not be immediately apparent.
In new clinical guidelines published last week by the AAP in its medical journal, Pediatrics, the group outlined a detailed framework to help pediatricians care for and monitor premature infants due to their increased risk of experiencing developmental disabilities.
The report is a consolidation of outcome-focused studies on preterm infants published since 2005. The AAP then divided prematurity and other factors into degrees of risk for developmental impairment.
The AAP hopes that this approach will help pediatricians more easily identify which preemies face the greatest risk of long-term or fatal complications, and what conditions put them at risk for specific problems. Once the infants are properly identified and pediatricians know what the highest risks for that infant are, the group laid out recommendations for pediatricians for each circumstance.
The recommendations are lengthy and detailed, but overall call for pediatricians to ensure such infants and their parents have access to the proper high-risk infant follow-up (HRIF) programs, to ensure the infant is getting access to the proper services and care, and that parents and caregivers are properly educated about the potential disabilities and additional social support programs and resources.
It calls for generalist pediatricians to conduct follow-ups with preterm infants every nine months until they reach the age of five. During that time, knowing what the infant's biggest risks are, they can detect early signs of developmental disabilities and begin treatment at the early stages, where such help often has the most long-term benefits.
Prematurity Linked to Increased Complications, NEC Risks
One of the highest risk factors for neurodevelopmental complications is prematurity of the newborn, the researchers found.
"The degree of prematurity is a strong and consistent risk factor for all neurodevelopmental disabilities, and at lowest gestational ages, there is an inverse relationship between the risk for disability and gestational age," the researchers determined. "Extreme preterm birth (<28 weeks' gestation) accounts for less than 1% of all deliveries but contributes to the greatest rates of neurodevelopmental disabilities."
The findings note that the risk of necrotizing enterocolitis, for example, is much higher in preterm infants, and the lower the gestational age, the higher the risk.
NEC is a severe intestinal disorder among infants, which results in inflammation and necrosis of intestinal tissue. It primarily occurs among premature infants, and often results in death or devastating injuries. Unlike other preterm birth problems looked at in the study, it occurs quickly after birth.
NEC Infant Formula Lawsuits
The AAP indicates that prematurity is likely the highest risk factor for NEC, and there has been growing evidence in recent years that these vulnerable infants are most likely to develop this devastating condition after being fed cow's milk-based infant formula products, often while they are still in neonatal intensive care units (NICUs).
Manufacturers of Similac and Enfamil now face a growing number of NEC lawsuits being pursued by families nationwide, alleging that information about the extent of this risk has been withheld from parents and the medical community for decades.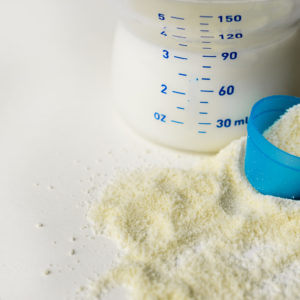 In the federal court system, all Similac lawsuits and Enfamil lawsuits filed over failure to disclose the risk of NEC among premature infants are centralized as part of an MDL (mulitidistrict litigation), before U.S. District Judge Rebecca R. Pallmeyer in the Northern District of Illinois.
As part of the management of the litigation, Judge Pallmeyer has established a "bellwether" program, where a group of 12 NEC lawsuits brought against the two infant formula manufacturers are going through case-specific discovery, and will be prepared for a series of early trial dates, which are designed help gauge how juries will respond to certain evidence and testimony that will be repeated throughout the litigation.
As part of the pretrial schedule, a series of court-ordered infant formula NEC settlement talks will be held between October 15 and October 27, 2023, at which time the parties will participate in mediation on the Bellwether selections, which may also lay the ground work for negotiating an agreement that would settle all claims pending against the two manufacturers.
If NEC settlements are not reached, the Court will consider challenges to the admissibility of expert witness testimony in early 2024, and a final pretrial conference has been set for March 11, 2024, at which time the parties will establish the schedule for initial trials.
"*" indicates required fields