Chemical Lobbying Group Files Lawsuit Over New EPA Advisory Levels for PFAS in Drinking Water
August 03, 2022
By: Irvin Jackson
A lobbying group for the chemicals industry has filed a lawsuit against the U.S. Environmental Protection Agency (EPA), in an effort to reverse a decision that lowers the safe levels of PFAS chemicals in water before a health advisory is issued.
Toxic per- and polyfluoroalkyl substances (PFAS), often referred to as "forever chemicals" since they are known to persist in the environment and build up in the human body, have been used in a variety of consumer products and packaging in recent years. However, there are increasing concerns about unsafe levels of PFAS in drinking water, much of which has come from use of the chemicals in firefighting foam commonly used on military bases, airports and fire training facilities.
The American Chemistry Council (ACC) filed a petition for review (PDF) in the U.S. District Court of Appeals for the District of Columbia Circuit on July 29, indicating that the EPA's issuance of new lifetime health advisory levels for the PFAS chemicals known as perfluorooctanoic acid (PFOA) and perfluorooctane sulfonic acid (PFOS), was "scientifically flawed."
PFOA and PFOS are two of the most studied, and two of the most toxic, of the family of chemicals known as PFAS. In June, the EPA set new PFAS drinking water advisory levels for four PFAS chemicals, including PFOA and PFOS.
The EPA made the decision after its own researchers determined "negative health effects" could occur with concentrations in water at or near zero, and below the EPA's ability to detect at this time. In response, the agency has set a health advisory level of .004 parts per trillion (ppt) for PFOA and 0.02 ppt for PFOS.
The move comes amid concerns raised in a growing number of PFAS water contamination lawsuits now being filed by individuals diagnosed with cancer or ulcerative colitis after drinking water known to contain high levels of the chemicals. Chemical and fire safety equipment manufacturers also face hundreds of lawsuits brought by former firefighters who developed testicular cancer, kidney cancer, liver cancer, pancreatic cancer, prostate cancer, breast cancer and other injuries after direct exposure to the chemicals in firefighting foam.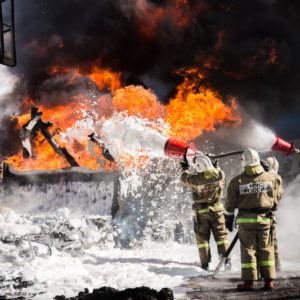 The ACC claims that even though the new guidelines outline "non-regulatory levels," the EPA's Lifetime Health Advisories (LHAs) will have sweeping policy implications at the state and federal level, and claim the agency failed to follow its own scientific practices.
"The Agency's revised LHAs for PFOA and PFOS are based on toxicity assessments that are currently being reviewed by EPA's Science Advisory Board. Rather than wait for the outcome of this peer review, EPA has announced new Advisories that are 3,000 to 17,000 times lower than those released by the Obama Administration in 2016," according to an ACC statement released on June 30. "These new levels are below levels that can be reliably detected using existing EPA methods."
The ACC is asking the appeals court to overturn the EPA decision, claiming the new LHAs are already having an effect on states' laws and practices, even though they are currently considered interim levels.
The ACC complains that the EPA is urging states and municipal water authorities to take action to fight levels of PFAS the agency now feels are harmful to human health.
Widespread Concerns Over PFAS in Drinking Water
PFAS were first introduced into the manufacturing industry in the 1940's and were popularly used because of their ability to resist heat, grease, stains, and water. They are found in a range of consumer products, ranging from nonstick cooking pans to fast food wrappers.
One of the largest uses of PFAS chemicals has been from aqueous film-forming foams (AFFF), commonly used by the military and firefighting organizations throughout the country. Currently, 3M Company and other chemical manufacturers are facing a growing number of firefighter cancer lawsuits seeking financial compensation and settlement benefits for injuries which may have been avoided if warnings and safety recommendations had been provided about the harmful long term side effects of PFAS exposure.
As of October 2021, the Environmental Working Group (EWG) has identified 2,854 locations in the U.S. that have PFAS in drinking water supplies. Of those, nearly 400 military installations have been confirmed to have ground water contaminated with PFAS, while contamination is suspected, but not yet confirmed, at hundreds of others.
A growing body of research has linked PFAS in water to cancer and a myraid of other potential long-term side effects, including autism, ulcerative colitis, liver damage, thyroid disease, decreased fertility, high cholesterol, obesity, hormone suppression, and autoimmune disorders.
The EPA indicates it plans to propose a PFAS national drinking water regulation in the fall.
"*" indicates required fields