More than 50,000 PFAS Contamination Sites Nationwide, Study Estimates
October 14, 2022
By: Irvin Jackson
Amid rising concerns about the long term effects of PFAS water contamination, a new study warns there are more than 50,000 "hot spots" where high levels of the toxic chemicals are found in drinking water across the U.S., mostly located at industrial facilities. However, researchers warn that most Americans are exposed to some level of PFAS contamination.
Researchers with the American Chemical Society integrated several nationwide data sets for the first time to create a single map of presumptive PFAS contamination sites nationwide, in order to help with the increasing research and regulations focused on per- and polyfluoroalkyl substance, many of which are toxic and linked to cancer and other adverse health effects.
The study identified identified 57,412 presumptive per- and polyfluoroalkyl substances (PFAS) contamination sites nationwide, according to findings published this week in the medical journal Environmental Science & Technology Letters.
PFAS are often referred to as "forever chemicals," since they are known to persist and build up in the environment and human body. The chemicals have been used for decades, due to their ability to resist heat, grease, stains and water. As a result, they are found in a vast amount of consumer products, including food packaging materials, pizza boxes, popcorn bags, non-stick cooking pans and other items. However, large volumes of the chemicals have also been released into the environment from the use of PFAS in firefighting foam, especially near military bases, airports and other training locations.
Exposure to the chemicals has been linked to the development of several different types of cancers among firefighters, as well as individuals drinking tap water in areas with known contamination. Studies have also found that PFAS exposure can cause liver damage, thyroid disease, high cholesterol and other side effects. However, the full extent of their adverse effects on the human body are still relatively unknown.
Widespread PFAS Drinking Water Contamination
In this latest study, researchers with the American Chemical Society indicated they have seen an exponential increase in research and regulatory actions regarding PFAS, but realized there was no complete data set or way to easily determine likely PFAS contamination sites.
The researchers integrated multiple data sets into a single map, looking at where large amounts of PFAS were used, stored and manufactured. The researchers found that PFAS contamination can be presumed to occur around three types of facilities, including aqueous film-forming foam (AFFF) discharge sites, certain industrial facilities, and sites related to PFAS-containing waste.
When they integrated the data, they discovered 57,412 sites that should be presumed to be PFAS contaminated, including 49,145 industrial facilities, 4,255 wastewater treatment plants, 3,493 current or former military sites, and 519 major airports.
The researchers hope their data approach will help governments, industries and communities quickly identify potential PFAS contamination sites.
"An estimated 200 million U.S. residents receive PFAS-contaminated drinking water, and state-level testing indicates widespread contamination of environmental media, yet tremendous data gaps exist related to PFAS contamination and human exposure," the researchers warned. "The only federal drinking water testing initiative with PFAS data to date, the Environmental Protection Agency's (EPA) Unregulated Contaminant Monitoring Rule 3 (UCMR3), focused on large drinking water systems, had high reporting thresholds (10–90 ng/L), and excluded private wells."
The researchers identified military sites using the Military Installations, Ranges, and Training Areas (MIRTA) data set from the Department of Defense. They identified major airports from Federal Aviation Administration data set and matched the coordinates for each AFFF-certified airport on Google Maps.
Collating data on industrial facilities required 11 different lists which looked at self-reported PFAS emissions, academic studies, and eight different regulatory lists from federal agencies.
However, the researchers noted there may be many more PFAS contamination sites than their list covers, due to a lack of publicly available information on firefighter training sites, airplane and railroad accidents, and sludge operations.
PFAS Water Contamination Lawsuits
Manufacturers of PFAS chemicals now face hundreds of firefighting foam lawsuits brought by individuals diagnosed with cancer after direct contact with the chemicals during their careers as a firefighter. In addition, a growing number of PFAS water contamination lawsuits are being pursued by individuals diagnosed with ulcerative colitis or cancer, after regularly drinking water known to contain the chemicals.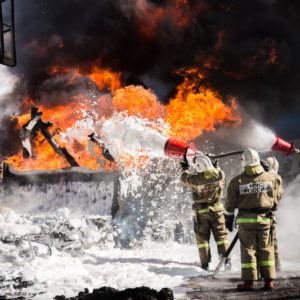 Complaints filed over PFAS and firefighting foam exposure allege chemical manufacturers such as 3M and Dupont covered up evidence of the health risks for years, and knew or should have known that individuals could develop serious injuries after exposure to PFAS chemicals in the local tap water, which builds up over time when the chemicals are improperly dumped or naturally run-off from use in firefighting foams.
Given common questions of fact and law raised in lawsuits being filed against 3M Company, Dupont and other manufacturers of PFAS chemicals and fire safety equipment, consolidated pretrial proceedings have been established in the federal court system, where claims brought nationwide are all centralized before one judge in the U.S. District Court for the District of South Carolina, for coordinated discovery and a series of early trial dates to help gauge how juries are likely to respond to certain evidence and testimony that will be repeated throughout the litigation.
There are currently about 3,000 product liability lawsuits over toxic PFAS effects pending nationwide, each involving similar allegations that the companies failed to warn about the long-term health risks from exposure to the chemicals.
Earlier this year, the Court selected a firefighting foam water contamination lawsuits for the first bellwether trial, which will go before a jury in 2023. While the outcome of the first trials will not be binding on firefighters or other plaintiffs, they will be closely watched and may influence future settlement negotiations over the PFAS cancer risks.
"*" indicates required fields