FDA Finds Little Evidence of PFAS Food Contamination, So Far
July 07, 2021
By: Irvin Jackson
Federal food regulators indicate that they have found little evidence that toxic chemicals associated with firefighter foam, which have caused widespread water contamination near military bases and other firefighter training locations, are invading the U.S. food supply in any significant amounts.
On June 30, the FDA issued an update to an ongoing investigation into the contamination of food by per- and polyfluoroalkyl substances (PFAS), which are commonly referred to as "forever chemicals," because of their ability to persist in the environment and the human body, without breaking down.
According to new results of an analysis of 94 food samples collected last year, the FDA indicates only one, a cod sample, contained detectable levels of two types of PFAS, and even then, the agency determined those levels were not a human health concern.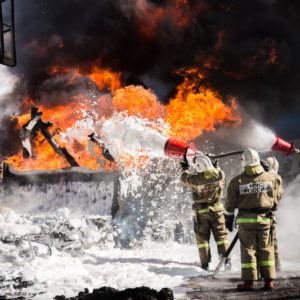 PFAS were first introduced into the manufacturing industry in the 1940's, because of their ability to resist heat, grease, stains, and water. However, since then the chemicals have been linked to a myriad of adverse health effects including liver damage, thyroid disease, decreased fertility, high cholesterol, obesity, hormone suppression, and cancer.
The chemical substances are used to manufacture a number of products, including some food packaging materials, pizza boxes, popcorn bags, fabrics, nonstick cooking pans, and other products.  However, it is perhaps most known for its use in firefighting foams used by military and civilian firefighters.
The FDA issued a similar report in 2019, with similar findings. Both reports rely on food samples collected for the FDA's Total Diet Study. For this latest update, the agency collected 94 samples of food products on the market in fiscal year 2020.
The agency has noted there seems to be a higher rate of occurrence of PFAS in fish. Previous updates included two tilapia samples in which PFAS was detected, as well as one ground turkey sample. The FDA indicates it will conduct a targeted survey of the most commonly consumed seafood in the U.S. to attempt to better understand if there is a connection between PFAS and seafood.
"The FDA's work in this space is critically important to advance science and fill knowledge gaps about these chemicals and their occurrence in food.," Health and Human Services Secretary Xavier Becerra states in the update. "We're committed to using all tools available to help ensure the food we consume is safe and doesn't risk anyone's health."
Other parts of the government are also concerned about the presence of PFAS and its affect on health. The Government Accountability Office just issued a report indicating the military will likely spend $2.1 billion this year on cleaning PFAS from water and soil near hundreds of military bases and speculates that price tag will climb over the years.
In addition, some states have put their own PFAS restrictions in place, and in June several lawmakers introduced legislation to ban PFAS from cosmetic products.
It is projected to take thousands of years for PFAS chemicals to degrade, and past studies have shown their ability to enter and stay in the environment and human body through the air, dust, food, soil, and water. Previous U.S. Centers for Disease Control and Prevention studies have shown PFAS chemicals primarily settle into the blood, kidney and liver, and could likely be detected in the blood of 98% of the U.S. population.
Most of the attention in recent years has been focused on the presence of PFAS in aqueous film-forming foams used by firefighters. Chemical manufacturers now face a growing number of firefighting foam lawsuits brought by nationwide, including individuals diagnosed with with cancer after exposure to the chemicals in their drinking water, as well as firefighters directly exposed during training and response exercises.
"*" indicates required fields