PFAS-Laden Turnout Gear and AFFF Foam Caused Prostate Cancer Diagnosis, Firefighter's Lawsuit Claims
November 01, 2023
By: Irvin Jackson
A Missouri firefighter says years of exposure to AFFF (aqueous film forming foam) and firefighter turnout gear, which are both laden with toxic chemicals, led to his development of prostate cancer.
The complaint (PDF) was filed by Timothy Zych in the U.S. District Court for the District of South Carolina on October 23, indicating that he was exposed to high levels of per- and polyfluoroalkyl substances (PFAS) throughout his career.
Zych alleges that 3M Company and 22 other chemical and safety equipment companies failed to warn him and other firefighters that the chemicals may accumulate in their blood, causing various types of cancer and diseases.
Firefighter Concerns from AFFF and Turnout Gear
AFFF has been used for decades by the branches of the U.S. military and local firefighting departments to combat fuel-based fires, containing high levels of PFAS compounds. However, in recent years there has been growing evidence that PFAS can persist in water supplies and the human body for extremely long periods of time, earning them the nickname "forever chemicals."
In addition, concerns have emerged that firefighters face a cancer risk from PFAS in firefighting turnout gear; which is the protective, layered clothing worn by firefighters to protect them from heat, flames and chemical exposure.
In August 2022, the International Association of Fire Fighters (IAFF) and the Metropolitan Fire Chiefs Association issued a warning to firefighters, calling for them to reduce their PFAS exposure by limiting their use of turnout gear. The groups warned that firefighters will not be able to fully avoid the PFAS cancer risk until the chemicals are removed entirely from protective gear and AFFF foam, but they called for the development and widespread availability of such gear. In the meantime, the group indicated that firefighters should limit the use of turnout gear to only emergency situations where it is required, and then suggested fire fighters remove it as soon as possible.
Studies have linked exposure to the chemicals to an increased risk of various types of cancer, leading to several thousand AFFF lawsuits now being pursued against more than a dozen chemical and safety equipment manufacturing companies, both by firefighters directly exposed to the chemicals and individuals who drank contaminated water.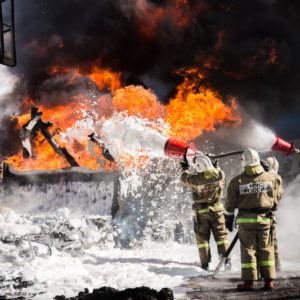 According to his lawsuit, Zynch worked as a firefighter for the Shady Valley Fire Protection District, now known as Saline Valley, the Puxico Volunteer Fire Department, and the Bloomfield Fire Protection District over an eight year period.
He was diagnosed with prostate cancer in December of 2022, which the lawsuit blames on his PFAS exposure, indicating neither manufactures of firefighter foam or protective turnout gear warned emergency response workers of the potential health risks.
"Plaintiff was regularly exposed to AFFF products and turnout gear without any warning regarding any potential harmful health effects that could result from such exposure," the lawsuit states. "When used in Defendants' intended and directed methods, Plaintiff was exposed over many different instances within the scope of his employment as a firefighter to PFAS that caused Plaintiff to develop prostate cancer."
Zych presents claims of negligence, negligence per se, battery, strict liability, breach of warranty, and fraudulent misrepresentation.
November 2023 Firefighter Foam Lawsuit Update
Given common questions of fact and law presented in thousands of firefighter foam lawsuits against AFFF manufacturers brought by individuals diagnosed with prostate cancer and other forms of cancer, coordinated pretrial proceedings have been established in the federal court system, where the claims are all centralized before U.S. District Judge Richard M. Gergel in the District of South Carolina, for discovery and a series of early bellwether trials.
Earlier this year, Judge Gergel directed the parties to select a group of 28 representative personal injury claims for an AFFF injury bellwether pool, involving plaintiffs who say they were exposed to chemicals that contaminated drinking water.
While the outcome of these claims will not have any binding impact on the other individual lawsuits, the average AFFF lawsuit payout may influence how much manufacturers may pay to settle lawsuits filed by Mitchell and other plaintiffs in the future.
In addition to individual lawsuits, the manufacturers also faced thousands of AFFF water contamination lawsuits by cities, states and municipalities nationwide.
In June 2023, 3M Company agreed to pay over $12.5 billion in an AFFF water contamination settlement, to resolve claims brought by local water suppliers. However, there have not been any reported settlements in AFFF lawsuits brought by former military service members or firefighters, and none of those individual claims have yet gone before a jury.
"*" indicates required fields