Researchers Warn About Evidence of PFAS in Umbilical Cord Blood Across the Globe
October 03, 2022
By: Russell Maas
In addition to mounting evidence about the long-term side effects from PFAS drinking water contamination, a new report by the Environmental Working Group (EWG) suggests that the toxic chemicals may also impacting developing fetuses, by passing through the umbilical cord.
Per- and polyfluoroalkyl substances (PFAS) have been used for decades, due to their ability to resist heat, grease, stains and water. As a result, they are found in a vast amount of consumer products, including food packaging materials, pizza boxes, popcorn bags, non-stick cooking pans and other items. Large volumes of the chemicals have also been released into the environment from the use of PFAS in firefighting foam, especially near military bases, airports and other training locations.
Exposure to the chemicals has been linked to the development of several different types of cancers among firefighters, as well as individuals drinking tap water in areas with known contamination. Studies have also found that PFDA can cause liver damage, thyroid disease, high cholesterol and other side effects. However, the full extent of their adverse effects on the human body are still relatively unknown.
PFAS Impact on Unborn Children
In an EWG report released this month, researchers warn that PFAS may impact a developing fetus, but passing through the umbilical cord during pregnancy.
Researchers reviewed data from 40 studies, examining more than 30,000 samples of cord blood containing PFAS chemicals. Samples were taken from citizens of the United States, and 11 other countries.
"Sixteen studies found associations between PFAS exposure in cord blood and changes in vital body molecules called cord blood lipids, as well as harm to fetal and childhood development.", according to the EWG's release.
The samples collected ranged in age when tested, while some were up to five years old, proving just how long PFAS chemicals remain present in the body, without dissipating.
PFAS Chemical Cancer Lawsuits
Manufacturers of PFAS chemicals now face hundreds of firefighting foam lawsuits brought by individuals diagnosed with cancer after direct contact with the chemicals during their careers as a firefighter. In addition, a growing number of PFAS water contamination lawsuits are being pursued by individuals diagnosed with ulcerative colitis or cancer, after regularly drinking water known to contain the chemicals.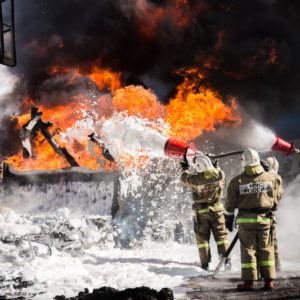 Complaints filed over PFAS and firefighting foam exposure allege chemical manufacturers such as 3M and Dupont covered up evidence of the health risks for years, and knew or should have known that individuals could develop serious injuries after exposure to PFAS chemicals in the local tap water, which builds up over time when the chemicals are improperly dumped or naturally run-off from use in firefighting foams.
As of October 2021, the Environmental Working Group (EWG) has identified nearly 3,000 locations in the U.S. that have confirmed PFAS water contamination in public and private systems. Of those, nearly 400 military installations have been confirmed to have ground water contaminated with PFAS, while contamination is suspected, but not yet confirmed, at hundreds of others.
"*" indicates required fields