Kidney Injury Lawsuits Over Nexium, Prilosec, Other PPIs Consolidated In New Jersey MDL
August 07, 2017
By: Austin Kirk
A panel of federal judges has established consolidated pretrial proceedings for all Nexium lawsuits, Prilosec lawsuits, Prevacid lawsuits, Protonix lawsuits and other kidney injury claims filed against makers of proton pump inhibitors (PPIs), centralizing the litigation before one federal judge in New Jersey for coordinated management. 
There are currently at least 161 product liability cases pending in 28 different U.S. District Courts against AstraZeneca, Pfizer, Teva Pharmaceuticals and other heartburn drug manufacturers, each raising similar allegations that claims that the side effects of proton pump inhibitors caused plaintiffs to suffer kidney failure, chronic kidney disease, acute interstitial nephritis and other forms of kidney damage.
In February 2017, the U.S. Judicial Panel on Multidistrict Litigation (JPML) rejected a request to establish a federal heartburn drug MDL, or multidistrict litigation, indicating that there were too few cases at the time, and too many different drug manufacturers involved to justify centralizing the cases before one judge for coordinated discovery and pretrial proceedings.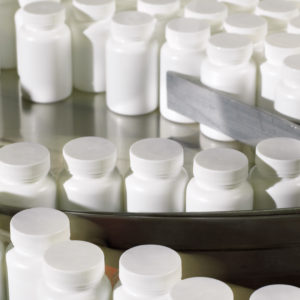 However, as the size and scope of the litigation has continued to grow, second request for centralized management was filed in May, and the JPML reconsidered oral arguments on the request late last month.
While the drug makers originally opposed the centralized management of the litigation, as number of cases spread throughout the federal court system continue to increase, both sides agreed that consolidation was now necessary to reduce duplicative discovery into common issues, avoid conflicting pretrial rulings from different courts and to serve the convenience of the parties, witnesses and the judicial system.
Following oral arguments on July 27, the U.S. JPML issued a transfer order (PDF) last week, indicating that all of the heartburn drug lawsuits should be centralized before U.S. District Judge Claire C. Cecchi in the District of New Jersey.
"In support of this new motion, plaintiffs, AstraZeneca, and Pfizer argue that the number of involved actions, districts, and plaintiffs' counsel has increased significantly since Proton-Pump I, that many more cases likely will be filed, that there are now a significant number of related state court actions, and that informal coordination and cooperation are not practicable to manage litigation of this scope," the JPML wrote. "After careful review of the record, we agree with this assessment."
Each of the lawsuits indicate that users and the medical community were provided inadequate warnings about risks associated with Nexium, Prilosec and other PPIs, which have been linked to reports of acute interstitial nephritis, acute kidney injury, chronic kidney disease, renal failure and other injuries.
According to the order, the panel determined that there is now a large enough body of litigation, all raising similar questions of fact and law, to warrant the creation of a multidistrict litigation, or MDL.
As proton pump inhibitor lawyers continue to review cases in the coming months and years, it is widely expected that thousands of lawsuits will ultimately be filed throughout the federal court system.
Lupe

October 15, 2018 at 10:16 pm

Beginning approximately at the age 35 years old I was told I had acid reflux, heartburn etc I was prescribed Nexium, Prilosec, Omeprazole, Asiphex,etc. By 2009, I was diagnosed with Osteoarthrities, Fibromyalgia, Rhuematoid Arthrities, along with a difficult time using the bathroom, ulcers, a growth on right kidney and a brain tumor that was recently removed. I am always exhausted, have weak mus[Show More]Beginning approximately at the age 35 years old I was told I had acid reflux, heartburn etc I was prescribed Nexium, Prilosec, Omeprazole, Asiphex,etc. By 2009, I was diagnosed with Osteoarthrities, Fibromyalgia, Rhuematoid Arthrities, along with a difficult time using the bathroom, ulcers, a growth on right kidney and a brain tumor that was recently removed. I am always exhausted, have weak muscles and have had to go through physical therapy on and off since 2010.

Robin

August 29, 2017 at 10:16 pm

My kidneys shut down recently after an accident but I have been using Prilosec and other drugs of the same type for 20 years. I don't know if my kidneys were compromised before the accident. It's funny though I still don't know why they failed after a 35 mph accident.

Raymond

August 20, 2017 at 9:36 am

I have sharp pain on left side. Doctor ordered a cat scan in 3 weeks.

Bobby

August 16, 2017 at 12:03 pm

I taken ranitidine since 2009 my kidney function is69 percent

John

August 9, 2017 at 4:29 pm

Used Nexium for number of years
"*" indicates required fields