Prenatal Exposure to PFAS "Forever Chemicals" Increases Child Obesity Risk: Study
June 15, 2023
By: Irvin Jackson
The findings of a new study suggest prenatal exposure to per- and polyfluoroalkyl substances (PFAS) raise the risk of childhood obesity, increasing concerns about the long-term side effects of water contamination in communities nationwide following use of the "forever chemicals" in firefighting foam and a number of other consumer products in recent decades.
PFAS include over 9,000 man-made chemicals, which have been linked to a number of serious health risks, including liver, damage, thyroid disease, decreased fertility, high cholesterol, obesity, hormone suppression and cancer.
In a report published this month in the medical journal Environmental Health Perspectives, researchers from Brown University found that pregnant women exposed to higher levels of PFAS are more likely to have children with a higher body mass index (BMI) and a risk of being overweight or obese, which could negatively impact their child's long term health.
While a number of products contain the toxic chemicals, including food containers and non-stick pans, most of the PFAS water contamination in the U.S. come from the inclusion of the chemicals in firefighting foam, which has been widely used since the 1960s during training exercises and in response to certain fuel based fires.
The chemicals do not easily break down and persist in the environment and human body "forever". As a result of the serious health risks, manufacturers of the chemicals already face thousands of firefighter cancer lawsuits and PFAS water contamination lawsuits being pursued in courts throughout the U.S.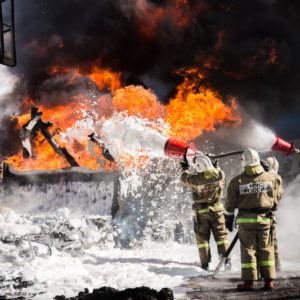 In this latest study, researchers used data from 1,391 mother-child pairs who participated in eight different cohort studies between 1999 and 2019. They looked for concentrations of seven different PFAS chemicals in the mothers' plasma or serum during pregnancy. They then measured the weight and height of their children between the ages of two and five-years old.
According to the findings, increased concentrations of some PFAS led to higher BMI scores, with the PFAS perfluorohexane sulfonic acid (PFHxS) associated with the highest increase. These increases were present even when only low levels of PFAS were detected, the researchers found.
Each time the amount in the mother's plasma or serum doubled, their child's BMI increased, the researchers determined.
"Maternal gestational concentrations of some PFAS were associated with increased BMI z-scores or the risk of overweight or obesity among children in these ECHO cohort studies," the researchers concluded. "Future epidemiological studies are needed to evaluate the associations of PFAS concentrations in pregnancy with other adiposity-related health outcomes in children."
PFAS and Firefighter Foam Environmental Concerns
PFAS were first introduced into the manufacturing industry in the 1940's, because of their ability to resist heat, grease, stains, and water. Since then, the chemical substances have been used to manufacture a number of products, including some firefighting foams, food packaging materials, pizza boxes, popcorn bags, fabrics, nonstick cooking pans, and other products.  However, it is perhaps most known for its use in aqueous film-forming foams (AFFFs) used by military and civilian firefighters.
In June 2019, a federal investigation found that PFAS chemicals are commonly found in numerous food products, including meats, seafood, chocolate, cake and other products.
The firefighting foam has been regularly used at military bases nationwide over the past decade during routine training and fire extinguishing exercises, and there has been renewed focus on the health risks after the chemicals have been found to contaminate many local water supplies around the training sites.
It is projected to take thousands of years for PFAS to degrade, and past studies have shown their ability to enter and stay in the environment and human body through the air, dust, food, soil, and water. Previous U.S. Centers for Disease Control and Prevention (CDC) studies have shown PFAS chemicals primarily settle into the blood, kidney and liver, and could likely be detected in the blood of 98% of the U.S. population.
"*" indicates required fields