Glyphosate in Roundup Weed Killer Could Threaten Freshwater Ecosystems: Study
September 23, 2021
By: Irvin Jackson
Amid continuing concerns that users may face a risk of non-Hodgkin's lymphoma from Roundup, the findings of a new study suggest the active ingredient glyphosate contained in the controversial weed killer may also imperil freshwater ecosystems around the world.
In two recently published studies, one in the journal Ecological Applications and the other in Molecular Ecology, researchers from McGill University in Montreal warn that glyphosate can impact bacterial and zooplankton communities, which form the foundation of the freshwater ecosystem's food chain, due to diversity loss.
In the Ecological Applications study, researchers investigated the response of the zooplankton community in experimental ponds, exposing them to levels of glyphosate, the insecticide imidacloprid, and nutrient fertilizers. They looked at changes in biomass, community structure and diversity metrics, finding that glyphosate exposure resulted in long-lasting declines.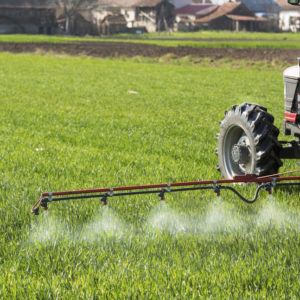 "Overall, glyphosate was the most influential driver of aggregate community properties of zooplankton, with biomass and community structure responding rapidly but recovering unequally over time," the researchers concluded.
Researchers determined that ultimately, while zooplankton was more resilient to glyphosate than expected, it could still lead to temporary disruption, though in the end the recovery could give some tolerance to pollution to freshwater animals higher up the food chain.
However, the study published in Molecular Ecology had more dire findings, indicating that high doses of glyphosate, even when still in commonly acceptable regulatory guidelines, can alter freshwater bacterioplankton, allowing those resistant to glyphosate to thrive, while diminishing the presence of others, potentially throwing the ecosystem out of balance.
The researchers in the second study determined that while the microscopic communities of organisms are resilient in a broad sense, changes within that community can still have significant impact on the freshwater ecosystem.
"Because plankton form the foundation of the food chain in freshwater ecosystems, it is very important to understand how plankton communities respond to widely used pesticides," Jesse Shapiro, an Associate Professor in McGill's Department of Microbiology & Immunology, said in a September 7 press release. "Our research shows that the structure of these communities can be impaired under currently acceptable North American water quality guidelines."
Both studies determined that glyphosate was the most influential agent of change in the structure of these microscopic communities. The zooplankton community appeared to be the most harshly affected, with a rapid decline in abundance and diversity. While the numbers of zooplankton recovered in ecosystems exposed to glyphosate within three weeks, the diversity of that community did not, with the glyphosate-sensitive species being almost completely eliminated, and those few species tolerant to it then taking over.
Because these species form the basis of the food chain, such changes and loss of diversity could have a profound effect on creatures higher up the food chain, such as fish, mussels and other aquatic species, and in some cases could help certain species thrive and others decline.
"Long-lasting species loss and compositional shifts have clear implications for the functioning and stability of freshwater ecosystems, even when zooplankton abundance appears unaffected," Marie-Pier Hébert, lead author on the Ecological Applications study, said. "How the effects of glyphosate cascade through freshwater ecosystems to affect their health in the long-term deserves much more study."
Roundup Cancer Litigation
While there have long been concerns over Roundup and glyphosate's effects on the environment and other species, most of the attention in recent years has been focused on the weed killer's links to cancer among individuals directly spraying the weed killer.
Bayer and its Monsanto unit have faced more than 120,000 Roundup lawsuits brought on behalf of individuals nationwide diagnosed with non-Hodgkin's lymphoma, each raising similar allegations that the manufacturers knew about the cancer risk for decades, but withheld information and warnings from consumers.
In July, Bayer announced it is setting aside an additional $4.5 billion in reserves to cover the costs of the litigation and potentially add to the amounts being discussed in ongoing settlement talks.
This was in addition to a massive proposed Roundup settlement, which would involve payments of more than $11.6 billion to resolve previously filed claims against Monsanto. However, in addition to settling cases already filed by former users diagnosed with non-Hodgkin's lymphoma, the company proposed a class action settlement that set aside about $2 billion to resolve future claims that may arise over the next four years.
The proposed settlement of future cases faced sharp criticism at the time, as former users of Roundup who have not yet been diagnosed with cancer, would not have a fair opportunity to opt out of the program. Under terms of that previously proposed deal, those individuals would have lost important rights, including a requirement they wait four years to pursue any future lawsuits over the deadly cancer, and give up the ability to pursue punitive damages, which have resulted in a number of massive verdicts against Monsanto.
U.S. District Judge Vince Chhabria, who is overseeing the federal litigation, rejected that settlement plan in May, saying it would allow Bayer to treat future claimants who have not yet developed non-Hodgkin's lymphoma after glyphosate exposure unfairly. The court noted non-Hodgkin's lymphoma has a latency period of 10 to 15 years, but the agreement only provided a four-year window to file.
To limit its future liability, Bayer also recently announced plans to remove the active ingredient glyphosate from Roundup weed killers sold to U.S. residential customers by 2023. The products would still be sold under the Roundup label, but would use a different active ingredient, which has not been linked to a risk of non-Hodgkin's lymphoma. However, glyphosate would still be used in products sold to agricultural businesses and farmers, and in product sold in other parts of the world, Bayer officials said.
Bayer has noted the vast majority of Roundup cancer claims have come from U.S. residential users. However, the company is still expected to face years, if not decades, of future litigation and trials, as prior users develop non-Hodgkin's lymphoma after exposure to the product during the decades it has been on the market without any cancer warnings.
"*" indicates required fields