Class Action Lawsuit Claims Roundup Promoted by Monsanto With False, Misleading Statements
June 26, 2017
By: Irvin Jackson
According to allegations raised in a class action lawsuit filed last week, Monsanto and Scotts Miracle-Gro have lied to consumers nationwide about the potential side effects of Roundup, falsely claiming that the popular weed killer has no effect on humans or pets. 
The complaint (PDF) was filed in the in the U.S. District Court for the Western District of Wisconsin on June 20, on behalf of six plaintiffs from several different states.
Plaintiffs allege that Monsanto, the manufacturer, and Scotts, the distributor, advertised and promoted the active ingredient in Roundup products, glyphosate, as targeting enzymes not found "in people or pets," indicating that the statements were false, misleading and deceptive.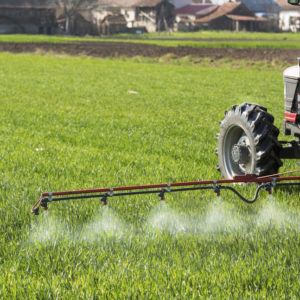 "[T]he enzyme that glyphosate targets is found in people and pets – specifically, in beneficial gut bacteria critical to their health and wellbeing, including their immune system, digestion, allergies, metabolism, and even their brain function," the Roundup class action lawsuit states. "Defendants repeat these false and misleading representations throughout their marketing, including in video advertisements produced for their websites and YouTube Channel."
The lawsuit indicates that the enzyme glyphosate targets is the EPSP synthase, which beneficial bacteria in the guts of humans and other mammals produce and utilize. Plaintiffs say many consumers would have not purchased or used Roundup had they known the potential impacts the herbicide could have on their health.
The misleading statements violate a number states' deceptive trade practices and consumer protection laws, according to the lawsuit, which seeks class action status to pursue damages on behalf of consumers nationwide.
The case comes amid a mounting number of Roundup lawsuits filed in courts nationwide, usually involving farm workers, landscapers or others in the agricultural industry who allege they developed non-Hodgkins lymphoma or other cancers following exposure to the weedkiller.
Litigation and concerns among regulatory officials emerged in mid-2015, when the World Health Organization's International Agency for Research on Cancer (IARC) decided to classify glyphosate contained in the weedkiller as a probable human carcinogen.
Given similar questions of fact and law raised in injury lawsuits and class action claims over Roundup, the litigation has been centralized for pretrial proceedings before U.S. District Judge Vince Chhabria in the Northern District of California, as part of an MDL, or multi-district litigation.
Most of the complaints involve allegations that plaintiffs may have avoided a diagnosis of non-Hodgkin's lymphoma if they had been warned about the Roundup risks, as safety precautions could have been taken or other products could have been used to control the growth of weeds.
Following coordinated proceedings before Judge Chhabria, if Roundup settlements or another resolution for the cases are not reached, each individual complaint may be remanded back to the federal courts where it was originally filed for an individual trial date.
"*" indicates required fields