Roundup Exposure Linked To Lung Inflammation in Agricultural Workers: Study
May 17, 2022
By: Irvin Jackson
A new study suggests that Roundup exposure may increase the risk of lung inflammation among farm workers, when combined with exposure to other chemicals.
Canadian researchers found that agricultural workers who were exposed to Roundup's active ingredient, glyphosate, in combination with lipopolysaccharide (LPS), an endotoxin which makes up the outer membrane of gram-negative bacteria, were more likely to experience lung inflammation that exceeds what is seen following exposure to each substance separately. Their findings on what they called a "synergistic effect" from Roundup were published in this month's issue of Occupational and Environmental Exposures: Models and Mechanisms.
The study comes as Bayer and its Monsanto subsidiary face thousands of Roundup lawsuits brought by former users of the weedkiller who developed non-Hodgkins lymphoma and other cancer. Although the companies have maintained for years that glyphosate does not cause cancer, billions in Roundup settlements have been paid over the past few years to resolve claims.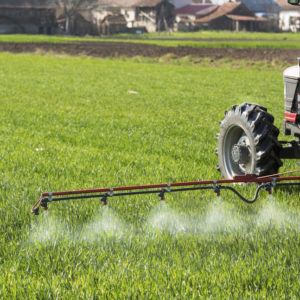 LPS and pesticides are one of the most common combinations of workplace exposures, according to the researchers, who conducted experiments on mice by exposing them to a combination of the two chemicals and comparing the results to mice exposed to a Hank's Balanced Salt Solution (HBSS) for five days.
According to their findings, mice exposed to both chemicals had significantly higher levels of pro-inflammatory cytokines and chemokines in their bodies than mice given just glyphosate or HBSS. Some of the pro-inflammatory proteins were also found in higher amounts in male mice after the experiment than in female mice, the researchers reported.
"Exposure to a combination of glyphosate and LPS caused increased lung inflammation compared to the individual exposures and has respiratory inflammatory effects on molecular markers that are significantly different between female and male mice," the researchers concluded.
In response to the growing concerns regarding the safety of Roundup over the past decades, new restrictions have been imposed in many countries, and a number of regulators are reassessing the widespread use of the popular weed killer. It has also led to activists pushing for agencies to take a much harder look at the underlying data about the potential side effects of exposure to glyphosate, the active ingredient.
Bayer announced plans last year to remove the active ingredient glyphosate from versions of the weed killers sold to U.S. residential customers by 2023. The products would still be sold under the Roundup label, but would use a different active ingredient, which has not been linked to a risk of non-Hodgkin's lymphoma. However, glyphosate would still be used in products sold to agricultural businesses and farmers, and in product sold in other parts of the world, Bayer officials said.
"*" indicates required fields