Lawsuit Alleges Years of Mixing, Spraying Roundup as Farmer Resulted in non-Hodgkin Lymphoma
August 01, 2018
By: Irvin Jackson
A Tennessee farmer indicates that more than two decades of mixing and spraying Roundup resulted in a non-Hodgkins lymphoma diagnosis, alleging that Monsanto failed to provide adequate warnings and instructions for their popular weedkiller. 
In a complaint (PDF) filed in the U.S. District Court for the Eastern District of Missouri on July 27, Frankie Manes is seeking damages from Monsanto Company and a number of unidentified individuals involved in the design, development, manufacturing, testing and marketing of the herbicide.
Manes is a farmer who used Roundup from 1989 to about 2016, mixing and spraying the weed killer over 10 acres of corn fields and other farmland. The lawsuit indicates that she was diagnosed with follicular lymphoma in December 2012, at the age of 42.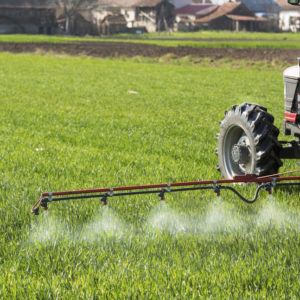 Follicular lymphoma accounts for about 20% of all non-Hodgkins' lymphoma diagnoses, and is a slow growing tumor that, if left untreated, can transform and become far more aggressive.
The case joints a thousands of similar Roundup lawsuits that have been filed against Monsanto nationwide in recent years, each involving similar allegations that users of the weedkiller may have avoided a cancer diagnosis if the manufacturer had not withheld and concealed important safety information from consumers.
The litigation emerged after the World Health Organization's International Agency for Research on Cancer (IARC) decided to classify glyphosate contained in Roundup as a likely cancer-causing agent in mid-2015.
While Monsanto has continued to maintain that their weed killer is safe, denying that there is any link between Roundup and cancer, plaintiffs alleg that the company either knew or should have known about the risk, and that it failed to conduct adequate testing.
"Rather than performing appropriate tests, Defendants relied upon flawed industry supported studies designed to protect Defendants' economic interests rather than Plaintiff and the consuming public," Manes' lawsuit states. "Despite their knowledge that Roundup was considerably more dangerous than glyphosate alone, Defendants continued to promote Roundup as safe."
In the federal court system, all Roundup cases have been centralized as part of a multidistrict litigation (MDL), which is pending before U.S. District Judge Vince Chhabria in the Northern District of California for coordinated pretrial proceedings.
Judge Chhabria had previously determined that the Roundup litigation will be bifurcated, first addressing general causation about the link between the widely used weedkiller and non-Hodgkins lymphoma, as well as other forms of cancer, before addressing case-specific issues about whether Roundup caused cancer for each individual plaintiff.
Earlier this month he ruled that plaintiffs had enough evidence to proceed to the bellwether trial phase, where a small group of cases will be selected to go before juries, to help gauge how juries are likely to respond to certain evidence and testimony that will be repeated throughout the litigation.
If Roundup settlements or another resolution for the litigation is not reached during the coordinated proceedings before Judge Chhabria, thousands of individual cases may ultimately be remanded back to U.S. District Courts nationwide for individual trial dates in the future.
"*" indicates required fields