Roundup Weedkillers Represent Significant Risk For Consumers, Lawsuit Claims
October 17, 2018
By: Irvin Jackson
A growing number of Roundup lawsuits filed in courts nationwide allege that users of the controversial weedkiller developed non-Hodgkin's lymphoma or other cancers, claiming that the herbicide poses an unreasonable and significant risk for consumers. 
In complaint (PDF) filed last week in the U.S. District Court for the District of Idaho, Arnold Borreson became one of the latest consumers to join the litigation, alleging that Monsanto knew or should have known that using Roundup created a high risk of dangerous side effects, including the development of non-Hodgkin's lymphoma, yet continued to manufacture, distribute and sell the weedkiller without proper warnings or safety instructions.
Borreson indicates that he was diagnosed with non-Hodgkin's lymphoma in August 2013m following decades of using Roundup as part of his work in aircraft maintenance. His lawsuit indicates that, for decades, Monsanto told consumers that Roundup was safe, while hiding scientific evidence to the contrary, and in some cases falsifying that evidence.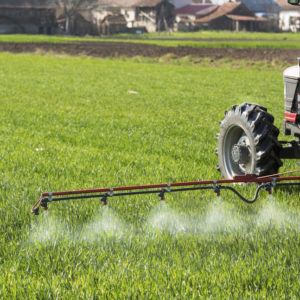 The lawsuit notes that the Environmental Protection Agency (EPA) twice found that laboratories hired by Monsanto, Industrial Bio-Test Laboratories (IBT) and Craven Laboratories, committed scientific fraud to make herbicides and pesticides, including Roundup, appear safer than they actually were. IBT's fraud was discovered during an FDA inspection in 1976, which led to an EPA audit of IBT that found the lab's toxicology studies for Roundup were falsified.
"An EPA reviewer stated, after finding 'routine falsification of data' at IBT, that it was 'hard to believe the scientific integrity of the studies when they said they took specimens of the uterus from male rabbits'," the lawsuit states. "Three top executives of IBT were convicted of fraud in 1983."
Craven was investigated in 1991, resulting in indictments of the owner and several employees.
The case joins more than 8,000 similar lawsuits filed in courts nationwide by individual who allege they developed cancer from exposure to Roundup weedkillers, indicating that the diagnosis may have been avoided if warnings and instructions had been provided to consumers.
In late August, a California state jury heard evidence about Monsanto's efforts to hide the Roundup cancer risk, in an early trial date granted to DeWayne Johnson, who is dying from non-Hodgkin's lymphoma following years of exposure to Roundup as a school groundskeeper. After finding that the manufacturer should be held accountable for failing to provide adequate safety warnings for Roundup to Johnson and other consumers, the jury determined that Monsanto should pay $289 million in compensatory and punitive damages in the case.
Over the next year, a number of additional Roundup "bellwether" cases are expected to go to trial in state and federal courts nationwide, to help gauge how other juries are likely to respond to similar evidence and testimony.
In the federal court system, Borreson's complaint will be consolidated as part of a coordinated multidistrict litigation (MDL), which has been centralized before U.S. District Judge Vince Chhabria in the Northern District of California. However, following the completion of pretrial discovery and any federal bellwether trials, if Monsanto fails to reach Roundup settlements or another resolution for the litigation, Martinez's case and hundreds of other lawsuits would ultimately be remanded back to U.S. District Courts nationwide for individual trial dates in the future.
"*" indicates required fields