Class Action Lawsuit Over Secret and Old Spice Antiperspirants Alleges Aerosol Sprays Expose Users to Cancer Risk
November 09, 2021
By: Irvin Jackson
Immediately following the release of a new report which warned several popular antiperspirants and deodorants contain high levels of benzene, a known human carcinogen, Procter & Gamble was hit with a class action lawsuit over Old Spice and Secret aerosol sprays, indicating it failed to warn consumers about the cancer risk.
The complaint (PDF) was filed by Tova Bryski in the U.S. District Court for the District of Southern Florida on November 4, seeking class action status for herself and others who purchased Secret and Old Spice deodorant sprays.
On November 4, the same day the lawsuit was filed, the prominent testing pharmacy Valisure announced it had found high levels of benzene in numerous brands and batches of body spray and deodorant spray products, including Secret, as well as Old Spice, Suave, Tag and others. Valisure filed a citizen's petition with the U.S. Food and Drug Administration, calling for a deodorant recall of the affected products.
Benzene is an industrial chemical that has been associated with the development of several fatal forms of cancer, leukemia and other conditions, such as AML, Chronic Myelogenous Leukemia (CML), Acute Lymphocytic Leukemia (ALL), Chronic Lymphocytic Leukemia (CLL), Hairy Cell Leukemia (HCL), Non-Hodgkin's Lymphoma, Multiple Myeloma, Myelodysplastic Syndrome (MDL), Myelofibrosis and Myeloid Metaplasia, Aplastic Anemia and Thrombocytopenic Purpura.
Secret or Old Spice Cancer Lawsuits
Were you or a loved one diagnosed with leukema, lymphoma or another cancer following regular use of the aerosol spray?
Contact A Lawyer
According to Bryski's lawsuit, she purchased Secret Powder Fresh Aerosol Spray on numerous occasions over the last several years, paying about $3.99 per can. The lawsuit indicates she and other consumers would not have purchased the deodorant spray had they known it increased their risk of cancer through benzene exposure.
"Bryski purchased the Defendant's Aerosol Antiperspirant Products on the assumption that the labeling of Defendant's Aerosol Antiperspirant Products was accurate and that the products were unadulterated, safe and effective," the lawsuit states. "Bryski would not have purchased Defendant's Aerosol Antiperspirant Products had she known there was a risk the products may contain benzene, a known human carcinogen."
According to Valisure's findings, some lots of Secret Powder Fresh had levels of benzene exceeding 16 parts per million (ppm). The FDA indicates no drug products should contain benzene if it is not absolutely necessary, and when it is, it should be limited to 2 ppm.
The investigation, and lawsuit, follow Valisure's identification of benzene in sunscreen spray products earlier this year, which las led to a number of consumers filing sunscreen cancer lawsuits and class action claims against Johnson & Johnson, as well as other manufacturers.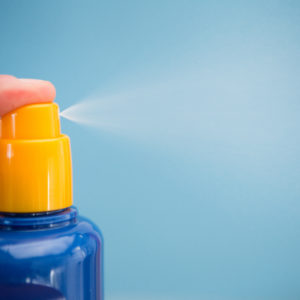 Learn More About
Leukemia, lymphoma and other cancer may be caused by benzene in Neutrogena, Aveeno, Coppertone and other sunscreens.
Learn More About this Lawsuit
Johnson & Johnson issued a Neutrogena and Aveeno sunscreen spray recall in July 2021, after confirming the known human carcinogens was present in it's products. The recall was accompanied by an FDA warning, which instructed consumers to stop using certain Aveeno and Neutrogena sunscreen products while the agency worked with the manufacturer to determine how the chemical was introduced into the recalled aerosol sunscreen spray cans.
Since the recall, at least eight class action complaints have been filed in different U.S. District Courts nationwide, each raising similar allegations that Johnson & Johnson endangered consumers' health by not warning them of the presence of benzene in brands of Neutrogena and Aveeno spray sunscreen, which could increase their risk of cancer.
Late last month, Johnson & Johnson and Costco announced they had reached a settlement agreement to resolve the cases. However, the details of the sunscreen settlement agreement have not yet been revealed and the deal has not been finalized.
Lessie

October 24, 2022 at 10:23 pm

I have bought this deodorant for yrs. This really upsets me!! 🤬♥️

George

November 28, 2021 at 5:39 pm

I have used old spice men's deodorant for a long time, is benzene in men's deodorant's. Or just spray's?
"*" indicates required fields