Judge to Meet with Lawyers Involved in Similac, Alimentum and EleCare Recall Lawsuits on Oct. 14
October 12, 2022
By: Irvin Jackson
Later this week, the U.S. District Judge presiding over all federal Similac, Alimentum and Elecare recall lawsuits will meet with lawyers involved with the litigation, during a status conference to discuss an early motion Abbott intends to file seeking dismissal of claims brought by parents of infants sickened by contaminated formula that the company distributed nationwide throughout late 2021 and early 2022.
Abbott Laboratories recalled Similac, Alimentum and Elecare formula products in February 2022, after disclosing that powdered formula manufactured at a Michigan facility was contaminated with Salmonella Newport and Cronobacter sakazakii bacteria.
At least two infant deaths and hundreds of illnesses have been reported by parents who fed the recalled formula to their children, and subsequent investigations have revealed that Abbott ignored industry safety standards and best practices at its facility for years, endangering children for the sake of profits.
Shortly after the recall, individual and class action lawsuits started to be brought, and it is ultimately expected that several thousands Similac, Alimentum and EleCare Recall lawsuits will be included in the litigation.
Similac, Alimentum and EleCare Recall Lawsuits
Was your child diagnosed with salmonella, cronobacter or another infection after being fed recalled formula?
CONTACT A LAWYER
Given common questions of fact and law raised in the complaints, the U.S. Judicial Panel on Multidistrict Litigation (JPML) has established centralized pretrial proceedings in the federal court system, consolidating the lawsuits as part of an MDL before U.S. District Judge Matthew F. Kennelly in the Northern District of Illinois.
On October 7, the parties submitted a joint status report (PDF), outlining what they expect to cover during a status conference that will be held on Friday, October 14.
Attorneys for Abbott and families of children sickened by Similac, Alimentum and EleCare indicate they have "met and conferred in good faith", reaching an agreement on three proposed discovery orders. However, the report notes Abbott Laboratories intends to file an early motion to dismiss the cases by December 13, and the parties disagree about how the litigation should proceed before that ruling is issued.
Although it has acknowledged contaminated formula was distributed nationwide, Abbott intends to file a single, omnibus motion to dismiss claims presented in all currently filed personal injury complaints, indicating that the Court should hold off on selecting a group of representative "bellwether" cases for coordinated case-specific discovery. However, plaintiffs disagree that any attempt to dismiss the claims should delay progress in the litigation.
"At the outset, there exists no Rule or procedure that confers on Abbott the right to have its motions to dismiss heard in an 'Omnibus' format," plaintiffs noted. "This is especially true given that there are no 'consolidated' injury complaints in this MDL, only individual complaints involving different plaintiffs and circumstances."
Plaintiffs point out that even if Abbott is able to dismiss certain claims, it is unlikely that the company can prevail on entirely dismissing the litigation, and the families fail to see how the ruling will reduce discovery that must be produced in any meaningful way. Therefore, the court is being asked to establish a "bellwether" framework where representative cases can be selected for discovery and pretrial proceedings.
Similac NEC Lawsuits Against Abbott
The lawsuits over the Similac, Alimentum and EleCare recall come as Abbott is also facing hundreds of necrotizing enterocolitis (NEC) lawsuits, which have been consolidated as part of a separate MDL in the Northern District of Illinois, before U.S. District Judge Rebecca R. Pallmeyer.
That litigation involves a rare and often fatal gastrointestinal illness linked to cow's milk-based Similac formula, which causes premature infants to suffer a rapid destruction of the bowel, often resulting in the need for emergency surgery while the baby is still in the NICU.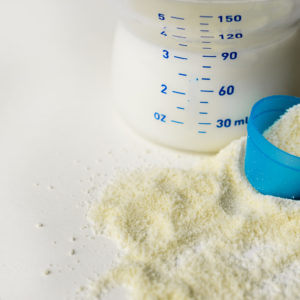 Although Abbott and other companies have marketed cow's milk formula as safe and effective for premature infants, research has found it increases the risk of NEC, which occurs when the wall of the under-developed intestine is invaded by bacteria.
As a result of the NEC risk from Similac and other cow's milk formula products, the American Academy of Pediatrics (AAP) recently issued an updated policy statement urging parents to avoid feeding newborns infant formula, and calling for infants to be fed breast milk exclusively for the first six months of life.
While both litigations are being coordinated out of the Northern District of Illinois, discovery and pretrial proceedings in the two separate MDLs will proceed on different schedules. In addition to claims against Abbott, the NEC litigation before Judge Pallmeyer also includes claims against Mead Johnson, the manufacturers of a competing cow's milk formula, Enfamil.
Judge Pallmeyer has already established a bellwether process, where the parties are selecting small groups of Similac NEC lawsuits and Enfamil NEC lawsuits to go through case-specific discovery and a series of early trial dates, which are designed to help the parties gauge how juries are likely to respond to certain evidence and testimony that will be repeated throughout the claims.
"*" indicates required fields