Abbott Baby Formula Factory Linked to Similac Food Poisoning Illnesses Had Numerous Structural and Procedural Problems: Report
August 29, 2022
By: Irvin Jackson
As Abbott Laboratories prepares to resume production at a baby formula factory in Sturgis, Michigan, a new report highlights poor manufacturing practices and design problems at the facility, which likely contributed to contamination issues responsible for hundreds of Similac food poisoning illnesses among infants nationwide earlier this year.
Bloomberg News published a report last week, which details the findings of FDA inspectors at the facility, which was shut down after it was discovered that powdered formula sold under the Similac, Alimentum and EleCare brand names was contaminated with Cronobacter sakazakiiis or Salmonella Newport.
Abbott Laboratories first announced the Similac formula recall on February 17, after inspections confirmed the presence of bacteria throughout the Michigan facility, and identified widespread manufacturing problems. Production was shut down for several months at the facility, which contributed to infant formula shortages this year in the U.S.
Hundreds of families nationwide are now pursuing lawsuits against Abbott, alleging that infants suffered food poisoning illnesses after being fed Similac, Alimentum and EleCare formula manufactured at the facility.
Similac Food Poisoning Lawsuits
Was your child diagnosed with food poisoning after being fed recalled Similac, Alimentum or EleCare formula?
CONTACT A LAWYER
Following the recall,FDA investigators reportedly found multiple deficiencies and problems at the Similac manufacturing facility, including leaks in the roof that allowed water to enter and sit stagnant on the floor and on production equipment. However, few details have been released by the Abbott or federal regulators.
In recent months, the Sturgis, Michigan facility has been slowly allowed to come back online, manufacturing limited amounts of EleCare and other specialty formulas. However, the formula plant was shut down due to flooding in June 2022, and the company just recently announced that full production of Similac will resume again in the next six weeks.
FDA Found Problems Months Before Recall
The Bloomberg report dives deep into what FDA inspectors found during their inspections of the Abbott facility in September 2021; months before the recall was announced.
According to the report, the inspection was a year overdue because of the pandemic, and FDA inspectors noted that cronobacter was detected at the facility five times in the past two years, and twice found its way into cans that were prepared for distribution before being caught. However, despite holding back those cans where cronobacter was detected, Abbott failed to recall the entire batches or notify the FDA.
Inspectors observed how the problem might have spread when they saw a worker reach into a bag of ingredients without cleaning his gloves or hands. In addition, they found pitted and cracked drying equipment, which could be bacterial breeding grounds, as well as pools of standing water.
During the September inspection, the FDA and Abbott received a report of a child falling ill with cronobacter in Minnesota after eating Similac Sensitive made at the Sturgis facility. While both the agency and the company knew about the incident, neither informed the inspectors.
Instead, the FDA just trusted Abbott would fix the problem. It was not until a follow-up inspection in January that the FDA decided to take action, when they found five different strains of cronobacter in the facility.
Similac & Enfamil Baby Formula Health Risks
In addition to concerns about contaminated baby formula produced at the Michigan facility, Abbott is also facing hundreds of Similac lawsuits brought by families of premature babies who developed necrotizing enterocolitis (NEC) after being fed the cow's milk products while still in the NICU.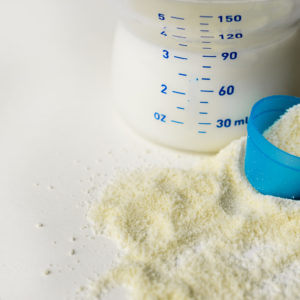 NEC is a serious health condition that primarily impacts preterm infants, causing intestinal tissues to become inflamed and die. If left untreated, it can cause dangerous perforations in the intestines, which allow bacteria to leak into the abdomen or infiltrate the bloodstream. This can lead to life-threatening infections, narrowing of the intestines, short bowel syndrome, developmental delays and a failure to thrive.
According to allegations raised in the baby formula NEC lawsuits, despite a number of studies published over the past three decades that have highlighted the high risks premature infants face from cow's milk formula like Similac and Enfamil, Abbott and it's competitor Mead Johnson have continued to market and promote versions of their products specifically for use by premature infants.
Families claim that their premature infants may have avoided this devastating and often fatal condition if the manufacturers hadn't provided false and misleading information to parents and the medical community for years, which diminished the importance of breast feeding or using human donor milk.
"*" indicates required fields