Similac Formula Lawsuit Filed By Mother of Premature Baby Diagnosed with NEC, Left with Short Bowel Syndrome
January 18, 2022
By: Irvin Jackson
The mother of a premature infant alleges in a recently filed lawsuit that side effects of Similac caused necrotizing enterocolitis (NEC) shortly after the cow's milk formula was fed to her baby in the NICU.
The complaint (PDF) was brought by DaNitra Rhodes in the U.S. District Court for the Northern District of Illinois on January 14, alleging Abbott Laboratories knew about the risks associated with their Similac formula, yet continued to promote it as safe for premature infants.
Rhodes is the mother of Kingston Grisby, referred to as "Baby Kingston" in the lawsuit, who was born prematurely in April 2015 and fed Similac formula while in the neonatal intensive care unit (NICU) at the Dallas hospital where he was born. The lawsuit alleges that Baby Kingston developed NEC from Similac formula, which is based on cow's milk instead of human breast milk.
"Significantly higher rates of NEC have been found in premature or preterm babies with low birth weights who are fed cow's milk-based formula or fortifier products," according to the Similac formula lawsuit. "The companies who manufacture these products often intentionally mislabel and misrepresent the contents of the products both to the public at-large and to the health care community, passing off these deadly products as something similar to or even superior to human breast milk."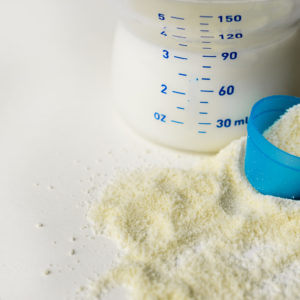 Baby Kingston, who was born at 26 weeks, was first actually fed his mother's breast milk for nearly a month, according to the lawsuit. However, he was fed Similac Neosure preterm formula for six days in May 2015, while still in the NICU, and suddenly developed severe complications.
"On May 28, 2015 at 1:00 AM, Baby Kingston's feeds were stopped due to recurrent episodes of vomiting and a significant increase in his abdominal girth," the lawsuit notes. "Baby Kingston was diagnosed with NEC on May 28, 2015 and was forced to undergo an exploratory laparotomy, resulting in the resection of half of his small intestine and the placement of an ostomy."
The Similac formula lawsuit notes the child required multiple surgical treatments, leaving him with short bowel syndrome. As a result, the child is underweight, suffers incontinence, and will require gastrointestinal care for the rest of his life.
NEC Risk for Premature Babies Fed Similac Formula
Studies have shown that cow's milk formula products like Similac and Enfamil cause NEC at substantially higher rates than is seen among premature babies fed breast milk or donor milk alone. However, the lawsuit maintains that Abbott Laboratories failed to provide adequate warnings or instructions about the risk.
In a study published in November, Canadian researchers warned that preterm and low birth weight infants given cow's milk-based formula were three times as likely to be transferred to a neonatal intensive care unit (NICU) for suspected NEC than those given donor milk.
Similar findings were published in October in the medical journal Nutrients, which found that breast milk was the "gold standard" for nutritional support during infancy, with antimicrobial and bioactive factors which helped prevent NEC.
Rhodes' complaint joins a growing number of baby formula NEC lawsuits now being brought by families nationwide, each raising similar factual allegations and claims, indicating that marketing by the manufacturers caused these formulas to displace breast milk that infants would have otherwise received, robbing them of a primary defense against NEC.
"*" indicates required fields