Wider Awareness of Cronobacter Infection Risks Needed After Similac Recall: CDC Researchers Warn
March 06, 2023
By: Irvin Jackson
Following last year's massive Similac recall, a new federal report highlights the need for improved safety practices regarding the storage and preparation of infant formula, as well as the importance of wider awareness about the devastating side effects of cronobacter infections from baby's milk.
The concerns were highlighted in a study published by the U.S. Centers for Disease Control and Prevention (CDC) on March 3, in its Morbidity and Mortality Weekly Report (MMWR), which focused on Cronobacter sakazakii infections that caused two infant illnesses: one linked to powdered infant formula and another linked to contaminated breast pump equipment.
Abbott Laboratories recalled Similac, Alimentum and Elecare formula products in February 2022, after discovering powdered formula manufactured at a Michigan facility was contaminated with Salmonella Newport and Cronobacter sakazakii bacteria.
Widespread distribution of the contaminated formula has been blamed for causing hundreds of infant illnesses nationwide, and subsequent investigations have revealed Abbott ignored industry safety standards and best practices at its facility for years, endangering children for the sake of profits.
Shortly after the Similac recall, individual and class action lawsuits started to be brought, and it is ultimately expected that several thousands Similac, Alimentum and EleCare Recall lawsuits may be included in the litigation.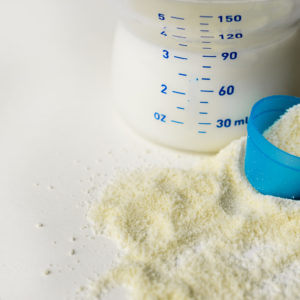 In this new study, the CDC looked at two separate cases of infants who became ill due to cronobacter infections after consuming contaminated milk. One of the incidents was reported in September 2021, involving powdered infant formula contamination. The other, which involved fatal injuries, involved improperly sanitized breast pump equipment.
According to CDC researchers, both incidents were analyzed using whole genome sequencing, which was able to identify the exact strains of cronobacter, which helped determine where they came from.
While the CDC did not identify which infant formula product was linked to the first case in September 2021, that was when reports first started surfacing of cronobacter and salmonella illnesses linked to Similac, Alimentum and Elecare infant formula products by Abbott. Researchers were able to genetically link the cronobacter found in the infant with cronobacter found in the powdered infant formula he was fed.
The second incident, reported in February 2022, involved a preterm infant born to a mother with preeclampsia, who was fed expressed breast milk fortified with liquid human milk fortifier. However, the newborn suffered a cronobacter infection and died 13 days after illness onset. Again, whole genetic sequencing led to investigators tracing the infection back to parts of a breast pump used at home,
With cronobacter infections spreading nationwide, CDC researchers said the genetic sequencing was key to determining the infections' origin.
They urged infant caregivers to be more aware of the potential risks of cronobacter, and also called for better preparation, storage practices and sanitation for infant formula and breast pumps. However, in the case of infant formula, they recommended avoiding it for infants facing the highest health risks.
"Clinicians providing care for infants aged <2 months or those who were born prematurely or are immunosuppressed should explain the risks of C. sakazakii infection to caregivers, especially if the infant is fed with powdered formula or expressed milk," the researchers recommended. "Education should emphasize exploring alternatives to powdered formula for infants at highest risk and safe powdered formula preparation and storage."
March 2023 Similac Recall Lawsuit Update
Problems with Similac formula have resulted in two separate coordinated proceedings in the federal court system, including one multidistrict litigation (MDL) established before U.S. District Judge Matthew F. Kennelly in the Northern District of Illinois for all Similac, Alimentum and EleCare recall lawsuits. A separate MDL proceeding has been established for all Similac lawsuits and Enfamil lawsuits brought over the risk of necrotizing entercolotis (NEC) caused by cow's milk formula products, which are centralized before U.S. District Judge Rebecca R. Pallmeyer.
While early pretrial proceedings before Judge Kennelly are still being established in the litigation over contaminated baby formula, Several Similac NEC lawsuits before Judge Pallmeyer have been selected for bellwether trials, which will be held to help the parties evaluate how juries will respond to certain evidence and testimony about the risks associated with use of cow's milk formula among premature infants, which has been linked to NEC.
Although the outcome of these bellwether trials will not be binding on other plaintiffs pursuing lawsuits against Abbott, they may have a large impact on the amount of Similac settlements the manufacturer may pay to avoid the need for each individual lawsuit to go before a separate jury.
"*" indicates required fields