Similac Special Care Caused Premature Infant To Develop Fatal Case of NEC, Lawsuit Alleges
January 11, 2022
By: Irvin Jackson
A mother indicates in a recently filed lawsuit that Similac Special Care caused her infant son to die due to necrotizing enterololitis (NEC), alleging that manufacturers of the cow's milk-based formula should be held responsible for failing to warn parents and the health care community about the risks their products may pose for premature babies.
The complaint (PDF) was filed by Shannon Hall in the U.S. District Court for the Northern District of Illinois on January 5, presenting claims on behalf of herself and the estate of her son, Eli Grey Hall, who died of NEC after being fed Similac Special care while still in the hospital neonatal intensive care unit (NICU).
SIMILAC SPECIAL CARE LAWSUIT
NEC diagnosed among premature infants may be caused by formula given in the hospital or NICU. Find out if your family may have a case.
Contact A Lawyer
Eli was born premature on November 27, 2019, and his mother was able to successfully pump her own breast milk for the baby's nutrition. This was also supplemented by the NICU with donor breast milk when necessary to feed Baby Eli. However, in December, the NICU started Eli on a human milk fortifier that was added to the mother's breast milk and donor milk. In addition, Similac Special Care 30 calorie formula was fed to Baby Eli about every three to four hours, making up about half of the infant's diet by the beginning of January 2020.
According the lawsuit, on January 6, Baby Eli became tachycardic and pale, with abdominal distension and bloating, raising concerns among the pediatric surgeon that he may have necrotizing enterocolitis (NEC), a devastating intestinal disorder that occurs when the wall of the intestine is invaded by bacteria, leading to destruction of the bowel and catastrophic injuries.
The next day, Baby Eli was scheduled for a laparotomy after he was diagnosed with Stage III NEC. However, the NEC surgery was discontinued as a result of the baby's fragile state, and Baby Eli tragically died from NEC on January 7, 2020.
"At the time of his death, Baby Eli's parents were unaware of the fact that the [Similac] Cow's Milk-Based Product Eli was fed caused or substantially contributed to his development of NEC and ultimately to his death," according to the lawsuit.
Studies have shown that cow's milk formula products like Similac and Enfamil cause NEC at substantially higher rates than is seen among premature babies fed breast milk or donor milk alone. However, Hall maintains that Abbott Laboratories failed to provide adequate warnings or instructions about the risk.
"The companies who manufacture these products often intentionally mislabel and misrepresent the contents of the products both to the public at-large and to the health care community, passing off these deadly products as something similar to or even superior to human breast milk," Hall's lawsuit states. "Tragically, baby Eli Grey Hall, who was premature at birth, was fed these cow's milk-based products, developed NEC, and died shortly thereafter."
Hall, of North Carolina, calls her son's death tragic and avoidable in the lawsuit, noting that numerous studies have linked infant formula based on cow's milk to an increased risk of NEC.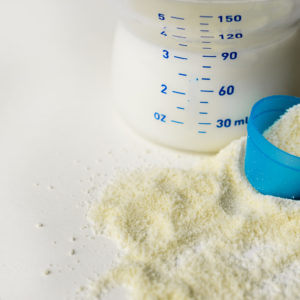 Learn More About
Premature infants fed Similac or Enfamil cow's milk formula faced increased risk of necrotizing enterocolitis (NEC) or wrongful death.
Learn More About this Lawsuit
"*" indicates required fields