Status of Talcum Powder Class Action Cases, Bellwether Plans to be Discussed During Conference
February 21, 2017
By: Austin Kirk
Lawyers involved in the federal talcum powder lawsuits are set to meet with the U.S. District Judge presiding over the litigation tomorrow, to review the status of several consumer class action cases, as well as competing positions about how to proceed with discovery and bellwether trials for hundreds of individual injury cases being pursued on behalf of women diagnosed with ovarian cancer.
Since October 2016, all federal product liability lawsuits over the risk of ovarian cancer from talcum powder have been consolidated for pretrial proceedings before U.S. District Judge Freda L. Wolfson in District of New Jersey, to reduce duplicative discovery into common issues, avoid conflicting pretrial rulings and serve the convenience of the parties, witnesses and the courts.
As a growing number of Johnson's Baby Powder cases and Shower-to-Shower cases continue to be filed in U.S. District Courts nationwide, a third status conference before Judge Wolfson is scheduled for February 22, and the parties disagree over how pretrial discovery should be handled and whether it is appropriate at this early stage of the proceedings to establish a schedule for a series of bellwether trials.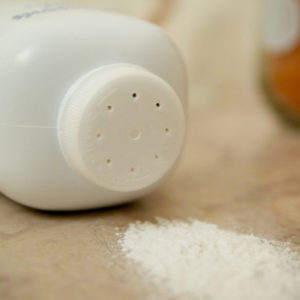 According to a Joint Agenda (PDF) submitted on February 17, Johnson & Johnson and other defendants are pushing for discovery to be limited to issues surrounding scientific and medical causation on the link between talcum powder and ovarian cancer, requesting a staged discovery process. However, plaintiffs maintain that they are entitled to full discovery into matters reasonably calculated to lead to admissible evidence in support of their claims, including information surrounding the manufacturers's knowledge of the talcum powder risks, internal communications, marketing information and data relevant to other topics.
Each of the personal injury cases raise similar allegations, claiming that women were diagnosed with ovarian cancer following years of applying Johnson's Baby Powder, Shower-to-Shower or another talcum powder product around the genitals for "feminine hygiene" purposes.
After getting hit with a series of massive jury verdicts in state court over the past year, Johnson & Johnson has been pushing for a quick bellwether process for talcum powder cases in the federal court system, where the manufacturer has suggested that more stringent evidentiary standards may limit the ability of women to establish a link between talc contained in their products and ovarian cancer.
At the status conference tomorrow, Johnson & Johnson is expected to urge Judge Wolfson to establish an immediate schedule for the random selection of bellwether cases in the coming weeks, which calls for 10 cases to be selected by March 1, which will then be narrowed down to two trial cases by June 5, 2017.
"Plaintiffs respectfully submit that Bellwether Trials should proceed at the appropriate time, but it is premature to establish a process by which Bellwether cases are selected or a scheduling order governing selection, preparation and trial of Bellwether cases," according to the position outlined by plaintiffs in the Joint Agenda. "As noted above, discovery has not commenced. Though Bellwether trials may be appropriate in the future, the third status conference in this MDL (only the second of which leadership is in place) is not the appropriate time for consideration of the selection and scheduling of bellwether trials."
In a separate Joint Report (PDF) submitted in advance of the conference regarding the status of pending talcum powder class action cases, the parties indicate that discovery efforts are being coordinated with the personal injury cases.
Plaintiffs in the consumer class action cases also argue that discovery should not be staged, pointing out that the causation issue is not necessarily determinative in the class cases, as relevant questions may remain about whether Johnson & Johnson misrepresented the safety of their products, or omitted information about the potential risk of ovarian cancer that is material to a reasonable consumers.
The federal talcum powder litigation currently involves at least 142 cases, encompassing 983 plaintiffs and two consumer class action lawsuits. In addition, another 1,288 plaintiffs have claims pending in state court in Missouri, another 435 have claims filed in California, 201 in New jersey, 77 in Delaware, and two in the District of Columbia; for a total of 2,896 plaintiffs in all, according to information submitted in advance of the status conference.
While the discovery process in the MDL is still getting underway, trial dates are expected to continue in Missouri state court, with at least six cases expected to go to trial in 2017.
Last year, three separate juries in St. Louis ordered Johnson & Johnson to pay damages to women diagnosed with ovarian cancer following use of talcum powder, including awards of $72 million in February 2016, $55 million in May 2016, and $70 million in October 2016.
Following the completion of coordinated discovery in the federal court system, as well as a series of early trial dates designed to gauge how juries may respond to evidence admissible under federal laws, if talcum powder settlements or another resolution for the litigation is not reached, Johnson & Johnson could face years of trials over their decision to withhold warnings from women about the risks associated with use of Johnson's Baby Powder and Shower-to-Shower for "personal freshness".
"*" indicates required fields