Suave Antiperspirant Spray Recall Issued Over Elevated Benzene Levels
March 31, 2022
By: Russell Maas
Elevated benzene levels have led to a Suave antiperspirant spray recall, due to a potential risk that long-term exposure may lead to the development of cancer.
The FDA announced the Suave antiperspirant recall on March 30, after routine sample testing by Unilever identified the presence of benzene, which the manufacture claims was caused by the propellant used in the aerosol cans.
Benzene is an industrial chemical that has been associated with the development of several fatal forms of cancer, leukemia and other conditions, such as AML, Chronic Myelogenous Leukemia (CML), Acute Lymphocytic Leukemia (ALL), Chronic Lymphocytic Leukemia (CLL), Hairy Cell Leukemia (HCL), Non-Hodgkin's Lymphoma, Multiple Myeloma, Myelodysplastic Syndrome (MDL), Myelofibrosis and Myeloid Metaplasia, Aplastic Anemia and Thrombocytopenic Purpura.
The recall comes after a number of companies have identified high levels of the chemical in aeorsol spray suncreen, deodorant and antiperspirant products, which have led to hundreds of recent lawsuits against manufacturers.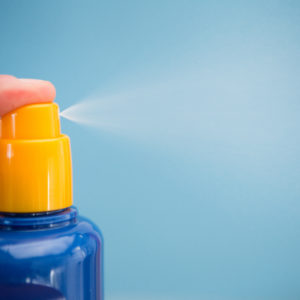 The Unilever recall includes all lots of 4 oz. and 6 oz. cans of Suave 24-Hour Protection Aerosol Antiperspirant Powder that contains the UPC codes 079400751508 and 079400784902, and 6 oz. cans of Suave 24-Hour Protection Aerosol Antiperspirant Fresh with UPC code 079400785503. Both lines of the recalled antiperspirants have expiration dates of September 2023.
Benzene is not an intended ingredient of the deodorants, and the manufacturer told the FDA that an internal review determined the industrial chemical came from the propellant that sprays the product out of the can.
Unilever announced that only a limited supply of the deodorants were shipped to retailers nationwide, since the company discontinued the line of products in October 2021, for "business reasons". However, the decision came just months after an independent testing pharmacy found dangerous levels of benzene in a number of different aerosol sunscreen and deodorant products.
Consumers are now being asked to stop using and appropriately discard the affected Suave 24-Hour Protection Aerosol Antiperspirant products immediately, and to contact Unilever at (866) 204-9756 for information on how to receive a refund.
Aerosol Spray Benzene Problems
Concerns about the presence of cancer causing chemical in consumer products came after the prominent online pharmacy Valisure released a report in May 2021, warning that it detected benzene in 78 aerosol sunscreen and after-sun care products, with more than a quarter of products exceeding 2 parts per million (ppm); the level at which the FDA considers benzene in the products to be a possible cancer concern.
Just four months later, around the time Unilever decided to discontinue the Suave 24-Hour Protection Aerosol Antiperspirant lines, Valisure released another shocking benzene contamination report, however this time focusing on contaminated deodorants and antiperspirants.
In a press release issued in November, Valisure stated it had found high levels of benzene, a known carcinogen, in numerous brands and batches of body spray and deodorant spray products, including Suave, Old Spice, Secret, Tag and others. As a result of the findings, the company also announced it filed a petition with the FDA (PDF), calling for deodorant and body spray recalls of the affected products.
The report specifically found some lots of Secret Powder Fresh, 24 HR Aerosol, had levels exceeding 16 ppm. Tag, Sure, Equate, Suave and other brand name products also had more than double the amount of benzene set by the FDA guidance.
Deodorant and Sunscreen Benzene Lawsuits
Since the release of Valisure's findings, benzene sunscreen lawsuits and benzene deodorant lawsuits have been filed throughout the U.S., all raising similar allegations that the manufactures failed to put adequate quality control measures in place that allowed consumers to be exposed to potentially cancer causing chemicals.
A recently filed Suave benzene contamination lawsuits cited Valisure's November 2021 report, which found the Suave 24-hour Protection Powder aerosol antiperspirant contained 5.21 parts per million (ppm) of benzene, which is more than two and half times the FDA concentration limit of 2 ppm.
However, Suave has not been the only deodorant and antiperspirant manufacturer to face lawsuits. Over the last several months, Proctor & Gamble has faced multiple Secret and Old Spice benzene contamination lawsuits, raising similar allegations.
Just months prior to the deodorant lawsuits, several sunscreen cancer lawsuits were filed against Coppertone and Johnson and Johnson after elevated levels of benzene contamination were found in certain aerosol sunscreen sprays.
With more than eight separate Johnson & Johnson Neutrogena and Aveeno sunscreen class action lawsuits filed by October 2021, all raising similar allegations, the U.S. Judicial Panel on Multidistrict Litigation (JPML) issued a transfer order (PDF) on October 8, ordering all claims pending in federal courts nationwide will be transferred to the U.S. District Court for the Southern District of Florida, under Judge Anuraag Singhal.
In complex product liability litigation, where a large number of claims are filed throughout the federal court system by individuals who suffered similar injuries as a result of the same product, it is common for the federal court system to centralize the litigation for pretrial proceedings. However, if settlements are not reached during discovery or following a series of early "bellwether" trials, each claim may later be remanded back to the U.S. District Court where it was originally filed to go before a jury.
"*" indicates required fields