Researchers Urge FDA To Recall Additional Sunscreens Over Potential Carcinogens
August 10, 2021
By: Russell Maas
According to a recent petition filed with the FDA, a massive sunscreen recall issued last month by Johnson & Johnson, after discovering cancer-causing chemicals in certain aerosol spray products, may actually be related to the active ingredient octocrylene used in a wide variety of different products.
A group of scientists from the non-profit research organization, Haereticus Environmental Laboratory (HEL) announced this week that they have filed two petitions asking the U.S. Food and Drug Administration (FDA) to recall thousands of spray-on sunscreen products, including popular brands such as Coppertone, Banana Boat and Neutrogena.
The petitions follow a study published in the medical journal Chemical Research in Toxicology in March 2021, which pointed at the use of octocrylene as the cause of benzene contamination in sunscreen products.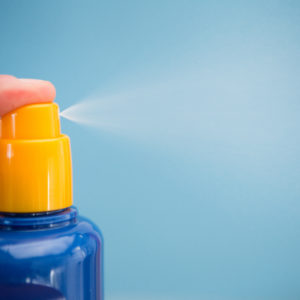 The group of researchers, led by Craig Downs, executive director of the HEL, worked with researchers at the Paris-based Sorbonne University and tested 16 octocrylene-based sunscreens intended for adults and infants for sale in the U.S. and France, including Beiersdorf AG's Coppertone Water Babies spray, Edgewell Personal Care Co.'s Banana Boat SPF 50 lotion and a Neutrogena Beach Defense spray and lotion from Johnson & Johnson.
Octocrylene is a common chemical sunscreen ingredient that once absorbed into the skin, captures harmful UV rays before they can cause damage to the skin.
According to the results of the tests, all of the octocrylene-based sunscreens tested positive for benzophenone, which is an industrial chemical that has been associated with the development of several fatal forms of cancer, leukemia and other conditions, such as AML, Chronic Myelogenous Leukemia (CML), Acute Lymphocytic Leukemia (ALL), Chronic Lymphocytic Leukemia (CLL), Hairy Cell Leukemia (HCL), Non-Hodgkin's Lymphoma, Multiple Myeloma, Myelodysplastic Syndrome (MDL), Myelofibrosis and Myeloid Metaplasia, Aplastic Anemia and Thrombocytopenic Purpura.
Downs indicates the degradation of octocrylene is the likely source for benzophenone contamination in an estimated 2,400 sun-protection products, leaving millions of consumers exposed to unlabeled hormone and reproductive organ disrupting chemicals absorbed in to the skin.
The petitions filed by Downs specifically calls on the FDA to remove all sunscreens containing octocrylene from the market until they can be deemed safe.
Long-term side effects of benzene exposure have been proven to cause anemia, which is a condition that develops when your blood lacks enough healthy red blood cells or hemoglobin. Essentially, the chemical causes bone marrow not to produce enough red blood cells, which can damage an individual's immune system. Federal regulators have determined long-term exposure to benzene can significantly impact blood cells, to the extent it causes cancer such as leukemia, which affects the blood-forming organs.
In May, the on-line pharmacy Valisure issued a press release warning that benzene was detected in 78 sunscreen and after-sun care products, with more than a quarter of products exceeding 2 parts per million (ppm); the level at which the FDA considers benzene in the products to be a concern.
Last month, the FDA announced a Johnson & Johnson Neutrogena and Aveeno sunscreen recall after routine sample testing identified levels of benzene which exceeded the agency's standards.
Johnson & Johnson subsequently announced that benzene is not an intended ingredient for any brand of their sunscreen products, and the company will continue to work with the FDA to determine how the chemical was introduced into the recalled aerosol sunscreen spray cans.
As a result of the recall, Johnson & Johnson faces a growing number of sunscreen class action lawsuits for marketing their sunscreens as a way to decrease the risk of skin cancer, without disclosing that the aerosol spray cans contain dangerous levels of a known carcinogen.
Joe

August 11, 2021 at 12:35 pm

FYI ... industry responded to our research with ... "The European Union has approved octocrylene for use in sunscreens." With respect to European Union SCCS toxicity testing, octocrylene is normally used in products (UV-filters/sunscreens and anti-aging products) that contain water and when octocrylene is exposed to water it breaks-down into the carcinogen BENZOPHENONE (BP) via retro-aldol conden[Show More]FYI ... industry responded to our research with ... "The European Union has approved octocrylene for use in sunscreens." With respect to European Union SCCS toxicity testing, octocrylene is normally used in products (UV-filters/sunscreens and anti-aging products) that contain water and when octocrylene is exposed to water it breaks-down into the carcinogen BENZOPHENONE (BP) via retro-aldol condensation. This reaction starts immediately upon exposure to water and continues to occur over-time causing BP to increase in concentration as the product ages. Almost all of the toxicology studies in the SCCS opinion (acute toxicity, sub-chronic toxicity, repeated dose toxicity, reproductive toxicity … etc.) that were used to determined that octocrylene "IS SAFE" is inappropriate because the chemical was tested in anhydrous vehicles which would inhibit BP formation, therefore, the data reported by SCCS "DOES NOT" reflect real-life human exposure to octocrylene/BP and cannot be used to predict human or environmental health risks. Joe DiNardo
"*" indicates required fields