Failure to Warn About Talcum Powder Asbestos Risks Results in $750 Million Jury Award to Punish J&J
February 07, 2020
By: Irvin Jackson
A New Jersey jury has determined that Johnson & Johnson should be required to pay $750 million in punitive damages, on top of more than $37 million in compensatory damages awarded for four individuals diagnosed with mesothelioma, signaling that the manufacturer should be severely punished for failing to warn consumers about the asbestos risks from talcum powder.
The case is the latest of several thousand lawsuits filed against Johnson & Johnson by former users of Johnsons' Baby Powder, Shower-to-Shower and other talc-based products, which allege that the manufacturer has known for years about problems with asbestos contamination, which may result in mesothelioma, ovarian cancer or other injuries.
Following a $37.2 million compensatory damage verdict awarded in September, this week a jury awarded another $750 million in punitive damages during a second phase of the trial. It only took the jury two hours to decide that Johnson & Johnson should be punished for its reckless behavior and business practices, which endangered consumers.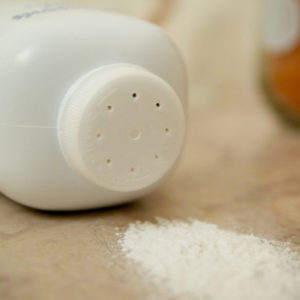 However, New Jersey Judge Ana V. Viscomi signaled that the the punitive damages award will be reduced to $186.5 million, explaining that New Jersey state law limits those damages to five times the amount of the compensatory damages. Even with the reduction, Johnson & Johnson would still have to pay nearly $224 million.
Each of the plaintiffs alleged that they were diagnosed with mesothelioma, a deadly form of lung cancer that is only caused by asbestos exposure, following years of using Johnson's Baby Powder, which studies have found contains particles of asbestos.
Johnson & Johnson currently faces nearly 15,000 Johnson's Baby Powder lawsuits and Shower-to-Shower lawsuits pending in courts nationwide, each raising similar claims that the manufacturer has known for decades that their products may contain asbestos and increase the risk of cancer, yet failed to warn consumers.
The company also currently faces a criminal probe into what it knew about asbestos being in its talcum powder products and when it knew of the risk.
Johnson & Johnson has indicated it plans to appeal this punitive damage award, as well as the verdict from the compensatory damages phase. During that part of the trial, the judge threw out the company's entire closing argument, saying Johnson & Johnson's attorneys used that part of the trial to make unfounded claims.
A month after the compensatory damages verdict was handed down, Johnson & Johnson was forced to issue a Baby Powder recall that impacted tens of thousands of bottles on October 18, after the FDA detected sub-trace levels of chrysotile asbestos.
The company indicates it intends to keep defending itself in the constantly growing number of claims.
Most of the U.S. litigation is currently pending in the federal court system, where a U.S. District Judge is currently evaluating whether expert witness testimony proposed by plaintiffs is sufficiently reliable to permit the cases to proceed to trial.
If Johnson & Johnson is unable to disqualify plaintiffs expert witnesses under the federal Daubert standard, it is expected that a series of "bellwether" cases will be scheduled for trial, which will increase pressure on the manufacturer to consider negotiating more wide-scale talcum powder cancer settlements to avoid thousands of individual cases going before juries.
"*" indicates required fields