Class Action for Talc Ovarian Cancer Cases Sought Against Johnson & Johnson
September 12, 2016
By: Irvin Jackson
According to a recent lawsuit filed against Johnson & Johnson, the number of talc powder ovarian cancer cases that Johnson & Johnson faces involving women nationwide are so numerous that the litigation should qualify for class action status. 
In a complaint (PDF) filed in the U.S. District Court for the Middle District of Louisiana on September 7, Shintelle Joseph seeks class action status to pursue a claim for herself and thousands of other women who have been diagnosed with ovarian cancer following years of using Johnson's Baby Powder or Shower-to-Shower body powder, alleging that Johnson & Johnson failed to adequately warn about the risks associated with using the products around the genitals.
Born in 1979, Joseph indicates that she used talc powder products for feminine hygiene purposes since she was 17 years old, and ultimately developed ovarian cancer in 2006. The lawsuit alleges that although Johnson & Johnson knew or should have known about the link between talc powder and ovarian cancer, Joseph indicates that the manufacturer never provided any indication on the product packaging or otherwise to warn that use could cause her to develop ovarian cancer.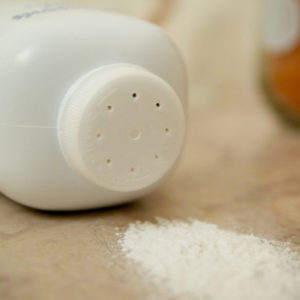 Joseph seeks to establish a talc powder class action lawsuit, indicating that the complaint is brought on behalf of herself and others who sustained injuries as a result of use of talcum-based products, or who will develop injuries in the future as a result of prior use.
"The members of the Class are so numerous and geographically dispersed that joinder is impractical," the lawsuit states. "Plaintiffs believe that the Class includes hundreds if not thousands of persons and spouses of persons who have developed ovarian cancer as a result of the prolonged use of talcum powder based products, and that the locations of such persons is geographically dispersed throughout the country."
Several thousand women nationwide are already pursuing individual Baby Powder lawsuits and Shower to Shower lawsuits against Johnson & Johnson, claiming that they are entitled to substantial damages as a result of the manufacturer's failure to adequately warn.
While talc powder is most commonly associated with use to help prevent diaper rash and maintain smooth skin, Johnson & Johnson has encouraged women to apply the powder around their genitals or in their underwear after every shower to maintain "personal freshness." However, studies have suggested that such use may increase the risk of ovarian cancer, as talc particles contained in the powder may migrate through the vagina, uterus and fallopian tubes.
So far this year, at least two talcum powder ovarian cancer cases have already gone to trial at the state court level, with each case resulting in a multi-million dollar damage award after evidence was presented about Johnson & Johnson's failure to provide appropriate talcum powder warnings for women.
Over the coming months and years, additional cases are expected to be filed individually as talc powder cancer lawyers continue to review and file claims for women and families nationwide, with many complaints indicating that evidence of talc was found in ovarian tumors diagnosed following years of using the products.
Given the large number of individual cases already pending in courts nationwide, centralized pretrial proceedings have already been established in several states, and the U.S. Judicial Panel on Multidistrict Litigation (JPML) is scheduled to hear oral arguments later this month about whether to transfer cases pending throughout the federal court system to one judge for coordinated pretrial proceedings.
While these centralized cases are managed in a manner similar to a talc powder ovarian cancer class action during pretrial proceedings, each of the claims remain individual cases, since each plaintiff has to establish that their injury was caused by exposure to Johnson's Baby Powder or Shower-to-Shower, and the damages experienced by each woman will be different. However, transferring cases to one judge does allow the parties to avoid duplicative discovery into common issues, avoid conflicting pretrial rulings from different courts and serve the convenience of the parties, witnesses and the judicial system.
"*" indicates required fields