Traumatic Brain Injuries Linked to Distinct, Treatment Resistant Form of Depression: Study
August 10, 2023
By: Martha Garcia
Individuals who experience a traumatic brain injury may face an increased risk of suffering a type of depression that is resistant to typical treatments, according to the findings of a new study.
In findings published last month in the medical journal Science Translational Medicine, researchers note that the type of depression experienced after traumatic brain injuries (TBI) is different than major depressive disorder, which is a commonly diagnosed mental health condition.
Since the researchers now believe the depression after a brain injury is a distinct condition, they have proposed a new name for the condition: TBI affective syndrome.
TBI Depression May Benefit From Different Treatment Approach
TBI is a type of brain injury that can occur from a blow to the head or a typical concussion. It can lead to impaired cognitive function, among other symptoms like sensitivity to light, migraines, and more.
In this new study, Harvard Medical School researchers compiled data from five patient cohort studies that used precision functional magnetic resonance imaging (MRI) brain mapping to study brain connectivity patterns in 273 patients who suffered TBIs. The study included participants who had depressive disorder but no TBI, patients with TBI-associated depression, and patients with posttraumatic stress disorder.
Researchers focused on brain connectivity differences between the dorsal attention network (DAN), default mode network, and subgenual cingulate areas implicated in TBI and major depressive disorder.
Past research has shown that suffering a TBI, even a mild TBI, can increase a person's risk of suffering depression, anxiety, dementia, attention deficit hyperactivity disorder (ADHD), and Parkinson's disease. Head trauma that leads to sleep disorders also can increase the risk of dementia and other memory-related conditions.
Researchers determined the findings suggest TBI-associated depression is a different clinical condition from depression and is also more resistant to treatment.
"Our results support the possibility of a physiologically distinct 'TBI affective syndrome,' which may benefit from individualized neuromodulation approaches to target its distinct neural circuitry," the researchers wrote.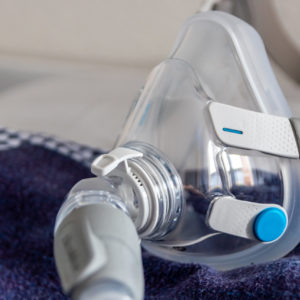 Did You Know?
Millions of Philips CPAP Machines Recalled
Philips DreamStation, CPAP and BiPAP machines sold in recent years may pose a risk of cancer, lung damage and other injuries.
Learn More
New Research Used More Sensitive Brain Mapping Technology
Prior research focusing on TBI had less sensitive brain imaging that couldn't detect some brain changes, especially those related to mood.
There were similar brain functions seen between participants with depression and those with only TBI, but they functioned in opposite ways. Similar circuits among those with depression were underactive, but among those with TBI and depression, the circuits were overactive.
Another study published in 2021 indicated that brain imaging among TBI patients and Alzheimer's disease patients were similar. Both groups of patients' brain scans showed similar signs of damage in the same part of the brain linked to memory and executive function.
The findings highlight how extensive injury to the brain can be, and may lead to changes like Alzheimer's disease or TBI affective syndrome.
Researchers of the new study emphasize that new treatments for TBI-related depression are warranted, especially since most TBI patients don't receive adequate follow-up care. Instead of applying standard depression treatments to the condition, doctors should focus on alternatives, they concluded.
TBI-related depression, or as study authors have now named it, TBI affective syndrome, is resistant to treatment, so conventional antidepressants may not be the best method of treatment for patients.
One treatment method study authors propose is using targeted MRI to treat patients with transcranial magnetic stimulation, which stimulates nerves in the brain. This treatment would "turn on" and "turn off" the neurons in the brain, which may be promising to reduce TBI affective syndrome.
Researchers tested the treatment on a small group and saw some success, but need to conduct more research to replicate the study on a wide scale.
"*" indicates required fields