Vaping Linked to Insufficient Sleep Among Teen Users: Study
October 25, 2022
By: Martha Garcia
Amid numerous health concerns about the side effects of vaping among teens, the findings of a new study suggest the use of e-cigarette also increase the risk teenagers will not get enough sleep, leading to potential physical and mental complications.
Researchers from the University of Texas at Arlington found that teens who vape are more likely to report getting insufficient sleep than peers who do not. The findings were published October 19 in the journal Sleep Medicine.
Although manufacturers introduced e-cigarettes by marketing them as a better way to quit smoking cigarettes, soon the focus shifted to promoting the use of products like JUUL among teens and prior non-smokers, leading to another generation of American teens addicted to nicotine.
Research has highlighted a range of potential vaping side effects, including upper respiratory problems, risk of oral and sinus cancer, and other complications.
While there have been prior studies focused on the link between smoking tobacco cigarettes and a lack of sleep, researchers in this latest study sought to examine the link between vaping and sleep outcomes among teens in the U.S., since nearly 23% of adolescents report that they use e-cigarettes.
The researchers used data from the 2017 and 2019 Youth Risk Behavior Survey, a sample of more than 28,000 adolescents.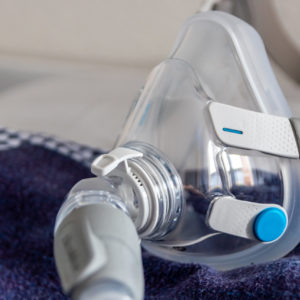 Did You Know?
Millions of Philips CPAP Machines Recalled
Philips DreamStation, CPAP and BiPAP machines sold in recent years may pose a risk of cancer, lung damage and other injuries.
Learn More
According to the findings, roughly three-quarters of teens in the study did not get the recommended minimum of eight hours of sleep on an average school night. Experts recommend teens get between eight and 10 hours of sleep a night, and most teens aren't even getting the minimum.
However, the researchers found teens who were current users of e-cigarettes and teens who previously vaped, but quit, were roughly 1.3 times more likely to report not getting enough sleep compared to teens who did not vape.
Teens were also more likely not to get enough sleep if they were older, Black, had symptoms of depression, experienced thoughts of suicide, had excessive screen time, or currently used alcohol.
The researchers found physical activity appeared to provide a defense against insufficient sleep, even for teens who vaped.
"As EVP (electronic vaping product) use increases among adolescents, it is important to consider the potential impact on multiple domains, including sleep," the researchers warned. "Future studies that employ longitudinal designs may offer additional insight into the mechanisms underlying the association between EVPs use and insufficient sleep."
Teen Vaping Epidemic Leads to JUUL Recall Order and Lawsuits
The findings come as federal regulators continue to crack down on vape manufacturers, as part of an on-going effort to address the teen vaping epidemic in the United States, following years of illegal marketing through social media and other medium intended to encourage teens to vape.
Over the last two years, the FDA has used its oversight authority under section 910 of the Federal Food, Drug, and Cosmetic Act to claim regulatory responsibility of all EVPs in 2016, which includes e-cigarettes, vaping products, and all liquids used with the devices.
As a result of the action, the FDA mandated that all new and existing nicotine based e-cigarette and vaping products go through premarket tobacco product applications (PMTAs). Under the new rules, manufacturers must provide evidence their vaping products benefit adult smokers enough to overcome the public health threat they represent to youth, as well as how they intended to prevent the lithium ion batteries from exploding. Failure to do so means the products will likely be banned from the market.
In June, federal regulators issued a market denial order (MDO) on June 23, which required a JUUL recall from stores nationwide, after the manufacturer failed to establish that the products provided enough benefit for adult smokers to overcome the risk of teens vaping with JUUL.
However, almost immediately after that order, JUUL Labs, Inc. got a federal appeals court to agree to temporarily block the FDA order, asking for more time to file an appeal, and claiming it was being treated unfairly by the agency. Now, the FDA is saying the court order is not necessary. On July 5, the agency announced it was placing its own administrative stay on the Juul market removal order.
Currently, more than 4,500 JUUL lawsuits are being pursued against the company by individuals, school districts and municipalities, each involving similar allegations that the e-cigarette manufacturer caused a new generation of teens and young adults to become addicted to nicotine by encouraging minors or prior non-smokers to use their vaping products.
"*" indicates required fields