Vaping and Other Alternatives to Smoking Linked To Upper Respiratory Problems: Study
March 03, 2022
By: Martha Garcia
The findings of a new study suggests that users of e-cigarettes or hookahs face an increased risk of experiencing potentially serious upper respiratory conditions, including bronchitis and asthma.
The way vapers and hookah users exhale expose them to higher concentrations of the ingredients in each product, and increases the risk they will develop complications like wheezing and coughing, according to researchers from New York University. This also increases the risk they will develop cancers of the nose, sinus and throat, the researchers warn in a report published last week in the journal Tobacco Use Insights.
Nasal exhalation is known to put tobacco users at higher risk of cancers of the nose, sinuses, and throat. In this new study, researchers examined exhalation patterns among cigarette, vape and hookah users.
Researchers recorded exhalations from the mouth, nose, and mouth, among participants in the New York City tri-state area. This included 123 e-cigarette users, 122 cigarette smokers, and 96 hookah users. Overall, 63% of vapers and 50% of hookah smokers exhaled through their nose compared with 22% of cigarette smokers.
Cigarette smokers typically exhale smoke through the mouth and exhale from their nose approximately half to one-third as often as vapers.
However, the data suggests that many e-cigarette users exhaled only through their nose. In fact, e-cigarette users exhaled through their noses at far higher rates than cigarette smokers. E-cigarette users are more than twice as likely to exhale smoke through their nose as cigarette smokers.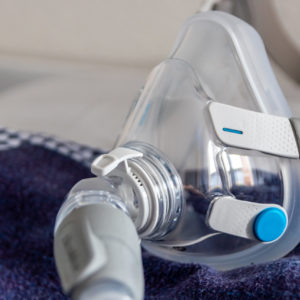 Did You Know?
Millions of Philips CPAP Machines Recalled
Philips DreamStation, CPAP and BiPAP machines sold in recent years may pose a risk of cancer, lung damage and other injuries.
Learn More
Although vaping has been promoted as a safer alternative to traditional cigarettes, an increasing number of studies have highlighted serious long-term health risks associated with use of the electronic devices.
Prior research has shown e-cigarette use may lead to damage in the cells of the mouth and lead to changes in DNA, which can later lead to increased risk of oral and sinus cancers.
In a related study, the same team of researchers found vapers and hookah users suffered increased damage in their nasal passages. In addition, levels of inflammatory compounds released by defense cells in the nose were 10 times higher for e-cigarette users and hookah users compared to cigarette smokers.
About 1 in 20 American adults vape. E-cigarettes and hookahs expose the respiratory system to higher levels of nicotine, carbon monoxide and other toxic chemicals compared to cigarettes, researchers warn. Other studies have indicated vaping increases the risk of respiratory diseases, including chronic obstructive pulmonary disease, chronic bronchitis, and emphysema.
Vaping has become increasingly popular in recent years, especially among young adults and teens, following the introduction of products like JUUL, which were sold in fruity flavors that appealed to children, and aggressively marketed by social media influencers in a way intended to reach teens and prior non-smokers.
While hundreds of JUUL lawsuits are now being pursued through the federal court system, alleging the manufacturers caused nicotine addictions among a new generation of Americans, the long-term consequences may cause problems for years, as teens and young adults continue to vape at alarming rates.
"*" indicates required fields