Polluters Dumped 200 Million lbs. of Toxic Substances in U.S. Waters in 2020: Report
October 04, 2022
By: Russell Maas
While communities throughout the U.S. are dealing with the serious long-term effects of PFAS water contamination, a new report highlights the extent of pollution that is occurring as a result of toxic chemicals being discharged into local waterways.
In a new report released on September 28, the Environment Texas Research & Policy Center warns that more than 200 million pounds of toxic chemicals were dumped into U.S. water sources in 2020, many of which are known to pose serious health risks, including cancer, reproductive issues, and developmental disorders.
Approximately one in every three watersheds across the U.S. were polluted with harmful chemicals, such as PFAS and nitrates, highlighting the need for additional regulatory actions.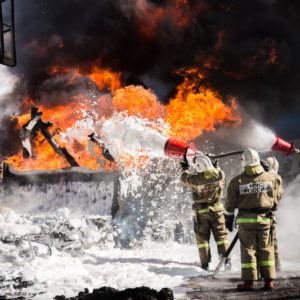 According to this new report, the U.S. Environmental Protection Agency (EPA) Toxics Release Inventory (TRI) has confirmed that at least 193.6 million pounds of toxic substances were dumped into U.S. waterways in 2020.
Despite the limitations on dumping chemicals into local waterways set forth in the Clean Water Act, the researchers found that, in 2020 alone, over 1 million pounds of toxic chemicals linked to cancer, over 200,000 pounds of chemicals linked to reproductive problems, and 4.5 million pounds of chemicals known to disrupt child and fetal development were released into American waterways in 2020.
Researchers determined chemical and plastics manufacturing, refineries, fossil fuel power plants, and metals manufacturers were the highest polluting industries, with the meat and poultry processing industry being the second most common polluters.
States with the largest chemical releases into local watershed included Texas at 16,778,747 million pounds, Indiana at 14,085,748 million pounds, Virginia at 12,218,174 million pounds, Louisiana at 11,378,399 million pounds and Alabama at 10,173,322 million pounds.
The report further found the top five most contaminated watersheds in states per volume of chemicals being dumped included 12,008,366 in the Lower Ohio-Little Pigeon in Indiana and Kentucky; 10,266,141 in the Upper New watershed in North Carolina, Tennessee and Virginia; 6,191,362 million pounds in the Brandywine-Christina watershed across Delaware, Maryland and Pennsylvania; 5,017,810 million pounds in the Lower Cape Fear watershed in North Carolina; and 4,640,523 in the Muskingum watershed of Ohio.
Nitrates and nitrate compounds made up 90% of all toxic releases by weight, which pose not only serious side effects to humans, but also are known to deplete the oxygen in water, creating dead zones that causes large scale deaths to aquatic and marine life.
Researchers found that while only 440 pounds of PFAS chemicals were reportedly released into waterways during 2020, only 172 out of more than 12,000 types of PFAS were reported on, leaving the reporting for the pollutants to be largely underestimated.
The research group concluded its report calling on expedited efforts and strict policy enforcement to be taken by the EPA, and federal and state officials to protect wetlands, streams and other waters that serve a critical role in serving communities.
PFAS Water Contamination Concerns Increasing
The report comes amid increasing concerns about the decades-long problems with the release of per- and polyfluoroalkyl substances (PFAS), which are commonly referred to as "forever chemicals", since they are now known to persist and build up in the environment or human body.
A number of communities have confirmed high levels of PFAS in drinking water supplies, and studies have linked exposure to a number of different long-term health risks, including autism, ulcerative colitis, pancreatic cancer, bladder cancer, liver cancer, testicular cancer, kidney cancer and other injuries.
For decades, the chemicals have been used in a number of consumer and industrial products to resist grease, oil, and water. However, much of the widespread problems with PFAS contaminating drinking water have come from the use in firefighting foam, where large amounts of the chemicals entered water supply after use during fire fighting training exercises at military bases, airports and other locations to combat fuel-based fires.
As a result of the harmful effects of the PFAS chemicals, their manufacturers already face hundreds of firefighting foam cancer lawsuits brought by individuals who came into direct contact with the chemicals, and a growing number of PFAS water contamination lawsuits are now being filed by individuals diagnosed with injuries after years of drinking tap water known to contain high levels.
Amid rising PFAS concerns, earlier this year the EPA issued a press release in June, announcing four lifetime health advisories for PFAS chemicals. The agency also announced it will provide $1 billion in grant funding, which states and territories can apply for in order to address PFAS drinking water contamination, particularly in small or disadvantaged communities.
In the release, the agency set a health advisory level of .004 parts per trillion (ppt) for PFOA and 0.02 ppt for PFOS. It also set a 10 ppt advisory level for GenX chemicals and a 2,000 ppt level for PFBS.
The new levels for PFOA and PFOS in drinking water represents an update from levels set by the EPA in 2016. The levels for PFBS and GenX chemicals are the first time health advisory levels have been set for those chemicals.
The agency announced it would also be applying more stringent reporting requirements for corporations and manufacturers of PFAS chemicals and plans to further research the thousands of PFAS compounds; many of which may carry unknown health risks.
PFAS Water Contamination Settlements
In 2017, several property owners in Kent County, Michigan filed a PFAS class action lawsuit against 3M and Wolverine due to water contamination in the Belmont Michigan National Guard Armory drinking water. The toxic chemicals infiltrated local municipal water supplies and private wells, and appeared to be spreading rapidly to other water sources.
Plaintiffs said Wolverine dumped the waste into nearby disposal sites, which then leached into the water table. The lawsuit also claims both companies knew the risks to local water supplies but failed to take precautions or warn local communities.
On September 19, U.S. District Judge Hala Y. Jarbou, of the U.S. District Court for the Western District of Michigan, issued an order granting preliminary approval of a $54 million PFAS settlement agreement for 1,733 property owners, in what is known as the North Kent Study Area. Class members are expected to receive between $15,000 and $25,000 each.
Judge Jarbou has set a notice date at 30 days after the preliminary approval granted on Monday. Class members have 45 days after the notice date to opt out or object to the agreement. They have 90 days from the notice date to file a claim.
"*" indicates required fields