Traumatic Brain Injuries Could Lead to Loss of Smell: Study
October 06, 2022
By: Martha Garcia
Traumatic brain injuries (TBI) are known to be one of the leading causes of death and permanent disability worldwide, but there is increasing evidence about other long-term side effects that survivors may be left with after suffering a concussion or head trauma.
In a study published in the medical journal JAMA Otolaryngology-Head & Neck Surgery, researchers from the University of Pennsylvania Perelman School of Medicine in Philadelphia indicate there is evidence suffering a traumatic brain injury diminishes the sense of smell, with individuals who suffer two or more severe head traumas potentially losing their sense of smell completely.
Researchers evaluated data on 5,900 adults from the ongoing Atherosclerosis Risk in Communities Study visit 5 from 2011 through 2013, involving olfactory assessments of participants to determine whether they experienced smell loss or a significantly decreased sense of smell. They also gave participants an objective assessment with the 12-time Sniffin' Sticks odor identification test.
Overall, participants who suffered head injuries were more likely to report a loss of smell. Those who suffered two or more moderate or severe head injuries were also more likely to lose their sense of smell entirely.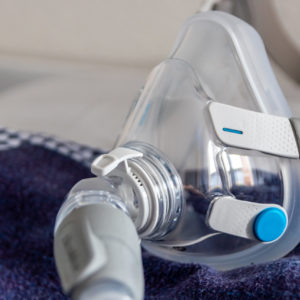 Did You Know?
Millions of Philips CPAP Machines Recalled
Philips DreamStation, CPAP and BiPAP machines sold in recent years may pose a risk of cancer, lung damage and other injuries.
Learn More
Nearly one-third of patients in the study had a history of head injury or TBI. Those with head injuries were more likely to report loss of smell compared to those without head injuries. Roughly 24% of head injury patients reported loss of smell compared to 20% of patients without a head injury.
"Findings of this cohort study provide evidence supporting the association between head injury and olfactory dysfunction, particularly among individuals who experienced multiple prior head injuries and among individuals with more severe head injury," the researchers wrote.
According to the new research, people with a history of head injury, especially two or more moderate, severe, or penetrating injuries, were more likely to have objectively measured smell loss.
Researchers also noted patients who suffered TBIs were more likely to self-report smell dysfunction or loss of smell. Those with severe injuries were also more likely to report anosmia, or a complete loss of smell.
The study adjusted for sociodemographic and other medical conditions which could account for the findings and the association continued.
Researchers said the findings suggest patients with a history of prior head injury are more likely to under-report their loss of smell as well as over-report their loss of smell. So it is key to having patients undergo objective olfactory testing to determine if loss of smell has occurred.
Traumatic Brain Injury Risks
Other research has linked traumatic brain injury to increased risk of suicide, heightened risk of Dementia, ADHD and other brain disorders later in life. Even suffering what many consider to be a simple blow to the head can have lasting impairments to a person's life.
Suffering a concussion increases a child's risk of suffering from mental health issues later in life by 40%.
Traumatic brain injury survivors face triple the risk of early death compared to people who did not suffer head traumas. With roughly 1 in 14 children in the US experiencing head trauma, the potential for side effects as they age are far reaching for much of the US population in the coming years.
"*" indicates required fields