Extension Granted For Responses to MDL Motion for Acetaminophen Autism, ADHD Lawsuits
July 08, 2022
By: Irvin Jackson
A panel of federal judges has agreed to grant an extension of time for Walmart, CVS, Walgreens and other defendants to respond to a recent request to consolidate all brought by parents of children diagnosed with autism or ADHD after exposure to the widely used pain medication during pregnancy.
Various manufacturers and distributors of drugs containing acetaminophen, which is the active ingredient in Tylenol, face an increasing number of ADHD and autism lawsuits brought by families nationwide, each raising similar allegations that inadequate warnings were provided about the potential acetaminophen pregnancy side effects.
Last month, a group of plaintiffs filed a motion with the U.S. Judicial Panel on Multidistrict Litigation (JPML), calling for the centralization of all acetaminophen lawsuits over ADHD and autism brought throughout the federal court system, indicating that the cases should be coordinated before one judge for discovery and pretrial proceedings.
While an initial deadline required responses to be filed by the defendants on or before July 5, separate motions were filed by CVS (PDF) and Walmart (PDF) on July 1, asking the JPML for additional time to respond to the motion, which would create an acetaminophen multidistrict litigation (MDL).
"Recognizing the very early stage of these proceedings and this developing landscape, Walmart believes there may be near-term opportunities to work with Plaintiffs' counsel to explore means of cooperatively managing these cases without need for an MDL— including potentially by severance of mis-joined claims and consolidation, transfer and/or refiling of others," the Walmart request states. "Indeed, such efforts are underway and are expected to be better appreciated in the next few weeks once all defendants listed in Plaintiff's Schedule of Actions have appeared through counsel in the JPML."
The JPML has issued a text order granting the extension, which gives the defendants until July 19 to respond, and allowing those supporting the motion until July 26 to reply to those responses.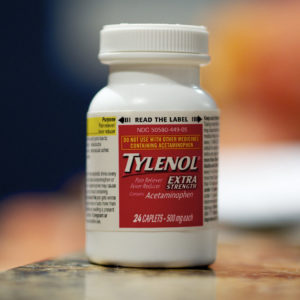 There are currently at least 19 acetaminophen autism and ADHD lawsuits filed in U.S. District Courts nationwide, each raising similar allegations that pharmacies and drug manufacturers failed to warn about the risks associated with prenatal exposure to acetaminophen: the active ingredient in Tylenol.
Each of the complaints raise similar questions of fact and law, indicating that information about the link between acetaminophen and autism, ADHD and other neurodevelopmental disorders has been withheld from consumers, who unknowingly exposed their unborn children to long-term risks and challenges that could have been avoided.
Acetaminophen ADHD, Autism Risks
The lawsuits come in the wake of recent studies which have suggested the use of prenatal exposure to Tylenol increases the autism and ADHD risks.
In October 2019, a study published in the medical journal JAMA Psychiatry found that children with the highest levels of acetaminophen metabolites in their blood at birth had the highest risk of the developmental disorders.
According to additional research published in the European Journal of Epidemiology in June 2021, children exposed to Tylenol during pregnancy were 19% more likely to have autism spectrum disorders and 21% more likely to have ADHD symptoms compared to non-exposed children.
Due to the potential acetaminophen pregnancy risks, researchers from Columbia University warned that doctors should re-evaluate the role of the pain medication for pregnant women in 2020, after finding that prenatal exposure may lead to impaired neurodevelopment in the fetus.
Robina

September 6, 2022 at 10:28 am

Hi I took Tylenol while pregnant and my daughter was diagnosed with ADHD
"*" indicates required fields