Johnson & Johnson, Retailer Defendants Argue Tylenol Autism, ADHD Lawsuits Are Preempted
February 15, 2023
By: Irvin Jackson
Hundreds of families are pursuing Tylenol autism or ADHD lawsuits, alleging that inadequate warnings were provided about use of acetaminophen during pregnancy
J&J and other defendants have filed a new motion to dismiss, arguing that the claims are pre-empted
Court previously rejected a similar motion filed by Walmart, but new motion argues that the drug makers could not independently update the acetaminophen pregnancy warnings
Litigation remains at the early stages of discovery into link between Tylenol and autism, ADHD and other disabilities
With a growing number of families nationwide now pursuing Tylenol autism and ADHD lawsuits, alleging that women were not adequately warned about the risks associated with use of acetaminophen-based drugs during pregnancy, Johnson & Johnson and a number of retailers named as defendants in the litigation have filed a motion seeking to dismiss the claims, arguing that they are preempted by federal law.
Each of the lawsuits raise similar allegations, indicating Tylenol caused autism spectrum disorders (ASD) or attention-deficit hyperactivity disorders (ADHD) among children exposed to the active ingredient in the pain medication during pregnancy, claiming that the life-altering disabilities could have been avoided if drug makers and retailers had disclosed the known pregnancy risks associated with their products.
In response to the growing litigation, Johnson & Johnson, as well as major retailers who sold store-brand acetaminophen products, such as Walmart, CVS and Walgreens, have filed motions to dismiss, indicating that they should be immune to liability for state law based failure to warn claims, since they cannot independently update the drug warning label without FDA approval. The drug makers also argue that the complaints fail to sufficiently plead a causal connection between maternal use of Tylenol or acetaminophen and the development of autism or ADHD.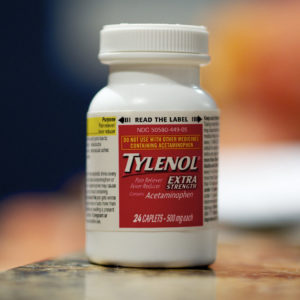 Given common questions of fact and law over the adequacy of the Tylenol pregnancy warnings, the U.S. Judicial Panel on Multidistrict Litigation (JPML) has centralized lawsuits brought throughout the federal court system before U.S. District Judge Denise Cote in the Southern District of New York, as part of a federal multidistrict litigation (MDL).
Judge Cote has already rejected a similar motion filed early in the litigation by generic drug makers, but the new motion to dismiss indicates that the Court previously reached the wrong answer because it did not have all of the relevant considerations before it.
In both a Johnson and Johnson Memorandum (PDF) and Retailers' Defendants Memorandum (PDF) filed on February 10, the defendants indicate that they are not provided the flexibility to update the Tylenol or acetaminophen pregnancy warnings.
"The FDA has mandated a uniform national pregnancy warning for all OTC medication 'intended for systemic absorption'. Under this regulation, each OTC drug label must contain precisely the following language (with the first four words in bold): 'If pregnant or breast-feeding, ask a health professional before use'," Johnson & Johnson's motion to dismiss states. "There is no dispute that a manufacturer may not unilaterally alter this language, and that a state may not require a manufacturer to do so."
The drug makers also argue that the Court should dismiss a Master Complaint filed on behalf of families nationwide, since it fails to plead causation or knowledge with the required level of "plausibility," indicating that the claims rely on studies that do not establish a direct link between Tylenol and autism, ADHD or other developmental disorders.
Finally, the motion indicates the plaintiffs' claims for strict liability misrepresentation, negligent misrepresentation and consumer protection violation should be dismissed for other reasons, and the defendants requested that the Court schedule oral arguments on the motion.
While plaintiffs have not yet responded to the Motion, Tylenol lawyers representing families of children with autism and ADHD did submit a joint letter (PDF) on February 12, indicating that based on their initial review of the arguments and anticipated points of opposition that will be filed, that they do not join in the request for any oral arguments, but will be available if the Court prefers to have one.
February 2023 Tylenol Lawsuit Update
Unless Judge Cote reverses her earlier decision and grants the new motion to dismiss, it is expected that the court will continue with coordinated discovery and pretrial proceedings in the litigation over the coming months, focusing on discovery regarding the causal link between acetaminophen and autism, ADHD or other developmental disorders.
The Court is expected to rule on early challenges to the sufficiency and admissibility of expert testimony in the litigation, before establishing a bellwether program where individual autism lawsuits and ADHD lawsuits are prepared for early trial dates to help gauge how juries may respond to certain evidence that will be repeated throughout the litigation.
Last month, Judge Cote issued a court order detailing how the federal court will coordinate Tylenol lawsuit discovery proceedings in various state courts nationwide.
Over the coming months and years, it is ultimately expected that tens of thousands of families are expected to joint the litigation, seeking financial compensation and Tylenol autism lawsuit payouts for their children.
DOES YOUR CHILD HAVE ADHD OR AUTISM FROM TYLENOL?
Lawyers provide free consultations and claim evaluations to help families determine if Tylenol settlement benefits may be available for children with autism or ADHD.
FIND OUT IF YOU QUALIFY
"*" indicates required fields