Tylenol During Pregnancy May Increase Risk of Behavioral Problems: Study
August 17, 2016
By: Irvin Jackson
The findings of a new study suggest that when used during pregnancy, side effects of Tylenol and other drugs with the painkiller acetaminophen, may increase the risk of children being born with hyperactivity and other behavioral problems. 
In a study published this week in the medical journal JAMA Pediatrics, researchers from the U.K. report that women who took acetaminophen during pregnancy had higher odds of giving birth to a child who would later develop problems with conduct, hyperactivity and emotional difficulties.
Researchers from the University of Bristol and Cardiff University School of Medicine noted that acetaminophen, known as paracetamol in Europe, was used by a large percentage of pregnant women and some research had already suggested it may be linked to abnormal fetal development. They looked to see whether it could cause behavioral problems as well.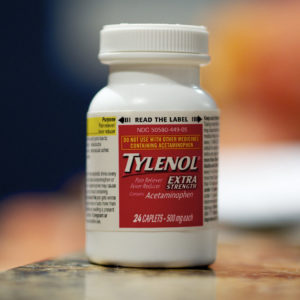 The findings indicate that women who use acetaminophen at 18 and 32 weeks of pregnancy had children with a 42% higher chance of conduct problems, a 31% increased risk of hyperactivity disorders and a 29% increased risk of suffering emotional problems. Overall, the risk of a child born to a mother who took acetaminophen during pregnancy having behavioral problems was 46% higher than among women who did not take the drug during pregnancy.
"Children exposed to acetaminophen prenatally are at increased risk of multiple behavioral difficulties, and the associations do not appear to be explained by unmeasured behavioral or social factors linked to acetaminophen use insofar as they are not observed for postnatal or partner's acetaminophen use," the researchers concluded. "Although these results could have implications for public health advice, further studies are required to replicate the findings and to understand mechanisms."
The study looked at data on 7,800 mothers. More than half used acetaminophen at some point during pregnancy.
Tylenol Health Risks
Although Tylenol and acetaminophen are commonly used by millions of Americans, and widely believed to be safe, a number of health risks have been linked to the drugs.
In February, a study published in the International Journal of Epidemiology suggested a link between Tylenol pregnancy use and childhood asthma. The findings indicated a 13% increased risk when acetaminophen was used during pregnancy, and a 29% increased risk when infants were given the painkiller. The increases remained after they adjusted for confounding factors.
The pain killer has also been identified as a leading cause for liver injury in the United States, causing an estimated 50,000 emergency room visits each year, including 25,000 hospitalizations and over 450 deaths annually. In addition, use of the medication has been linked to a risk of dangerous skin reactions, like Stephens-Johnson Syndrome.
In recent years, efforts have been ramped up to bring the risk of acetaminophen overdoses to the public's attention and to reduce the amount of liver injury cases linked to the popular analgesic, which is also found in other pain killers and a number of cold medications.
In 2011, Johnson & Johnson lowered the maximum recommended dosage on Tylenol and other acetaminophen-based products from 4,000 mg per day to 3,000 mg per day. However, the drug maker now faces a number of Tylenol liver failure lawsuits, which involve allegations that important safety information from the public for decades.
"*" indicates required fields