Tylenol Lawsuit Over Liver Risks Set for Trial in Sept. 2016
March 10, 2016
By: Austin Kirk
The U.S. District Judge presiding over all Tylenol liver failure lawsuits pending throughout the federal court system has rescheduled the first bellwether trial in the litigation for September 2016, following a delay of nearly one year due to various pretrial issues. 
There are currently more than 200 product liability lawsuits pending before U.S. District Judge Lawrence Stengel in the Eastern District of Pennsylvania, as part of a federal multidistrict litigation (MDL) established for all claims over Johnson & Johnson's failure to adequately warn about the liver risks linked to Tylenol.
As part of the coordinated pretrial proceedings, a wrongful death lawsuit filed by Rana Terry was previously selected as the first "bellwether" trial that will go before a jury, to test the relative strengths and weaknesses of allegations and defenses in the litigation.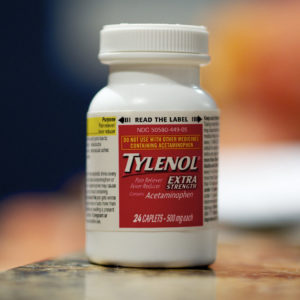 Terry's complaint was filed over the 2010 death of her sister, Denice Hayes, alleging that side effects of Extra Strength Tylenol caused Hayes to suffer acute liver failure.
The first Tylenol bellwether trial was originally scheduled to begin in June 2015, but was later pushed back to October 2015. Only a few months before the expected start of the trial, Judge Stengel continued the trial date and vacated all deadlines pending resolution of several pretrial motions filed in the case.
In a series of rulings late last year, Judge Stengel denied motions by Johnson & Johnson and it's Ortho-McNeill subsidiary to dismiss claims pursued by Terry, clearing the way for the bellwether case to go to trial to gauge how juries may respond to certain evidence and testimony that is likely to be repeated throughout the litigation.
In a case management order (PDF) issued on February 29, the start of the Terry bellwether trial set for Monday, September 19, 2016. Over the coming months, the Court has set deadlines for motions regarding the use of certain evidence and confidential information at trial, as well as the use of previously recorded testimony from certain witnesses.
Last week, Judge Stengel also cleared the way for a marketing expert to testify on behalf of Ms. Terry, in a memorandum (PDF) issued March 2. Johnson & Johnson had objected to testimony by Dr. Marvin Goldberg, who is expected to testify about the company's Tylenol marketing strategy and how it failed to adequately warn the medical community and consumers about the risks of liver damage.
Johnson & Johnson argued that Goldberg was not a qualified expert to testify about the adequacy of its warning labels, but Judge Stengel disagreed.
"Dr. Goldberg explains how the defendants' marketing and advertising campaigns were perceived by consumers and how their integrated marketing strategies may color consumers' understanding of the warnings provided," Judge Stengel noted. "Essentially, he outlines the 'context' of the warnings, as a way of explaining their ultimate effectiveness. From this standpoint, he is qualified to offer an opinion about how consumers may have perceived the warnings."
While the outcome of this bellwether trial will not be binding on other cases, it will be closely watched by those involved in the litigation and may help facilitate potential Tylenol liver failure settlements to avoid the drug maker facing hundreds of individual jury trials.
Similar to other complaints pending in the Tylenol litigation, Terry alleges that Johnson & Johnson built a false reputation that Tylenol is a safe and effective medications by withholding important safety information about the risk of liver damage, which may have caused individuals throughout the United States to suffer severe liver failure, often resulting in death or the need for a liver transplant.
Tylenol is one of the most widely used painkiller medications in the United States, which has been used by millions of Americans. Federal health officials have previously suggested that Tylenol and other acetaminophen drugs may be responsible for more than 50,000 emergency room visits each year, including 25,000 hospitalizations and over 450 deaths annually due to liver failure.
"*" indicates required fields