Lawsuit Alleges Abbott Concealed Similac Formula Problems To Increase Profits, While Babies Got Sick and Died
September 02, 2022
By: Russell Maas
Abbott Laboratories faces a securities fraud class action lawsuit, which indicates that the company placed profitability ahead of the safety of babies, by concealing information about problems at a Michigan manufacturing plant where Similac, Alimentum and EleCare formula was tainted with bacteria that has caused infant illnesses and deaths.
The complaint (PDF) was brought this week by the Pembroke Pines Firefighters & Police Officers Pension Fund in the United States District Court Northern District of Illinois Eastern Division, indicating that Abbott withheld information about the Similac formula problems from investors and the public, and made misrepresentations about the safety and salability of its products to increase it's stock price, while families continue to feed the contaminated formula to babies.
Similac Illnesses and Deaths Have Resulted in Lawsuits and Liability
The class action lawsuit stems from a massive Abbott recall of Similac, Alimentum and EleCare formula issued in February 2022, following reports of infant illnesses and deaths linked to Cronobacter sakazakiiis or Salmonella Newport contamination that was caused by poor sanitary conditions at it's Michigan manufacturing plant.
Since the recall, information has emerged that shows Abbott knew about the Similac contamination problems since at least September 2021, when the Minnesota Department of Health began investigating a case involving an infected infant. However, the formula continued to be distributed, remained on store shelves and families nationwide continued to feed the contaminated products to infants.
Abbott now faces dozens of Similac recall lawsuits brought by families, alleging that infants were hospitalized or died due to salmonella and other infections after being fed the tainted formula, and the company's stock price has fallen sharply, resulting in losses for investors.
Similac Recall Lawsuit
Was your child hospitalized due to salmonella or another infection after being fed recalled Similac, Alimentum or EleCare formula?
CONTACT A LAWYER
Following the recall, Abbott was forced to close the Sturgis, Michigan plant due to severe safety problems, shutting down production at one of the major sources of infant formula in the United States, which contributed to a nationwide shortage of infant formula earlier this year.
About a month later, the FDA released findings of an inspection at the Abbott plant, where investigators identified multiple problems, including leaks in the roof that allowed water to enter and sit stagnant on the floor and on production equipment. This is suspected to have contributed to the outbreak of pathogens that caused infant illnesses and deaths after being fed Similac, Alimentum and EleCare formula products.
The FDA's investigation also discovered that the unsanitary conditions at the Abbott plant had been ongoing for months, if not longer, and the company was well aware of the issues.
The lawsuit against Abbott seeks class action status, to pursue damages on behalf of similarly situated investors who purchased or acquired stock in the company between February 19, 2021 and June 8, 2022, during which time multiple false and misleading statements were made about the extent of the Similac formula problems that Abbott was facing. Defendants named in the complaint include Abbott Laboratories, it's CEO Robert B. Ford, CFO Robert E. Funck, Jr, Executive Vice President of Nutritional Products Joseph Manning and Senior Vice President of U.S. Nutrition Christopher J. Calamari.
"Throughout the Class Period, Defendants put profitability ahead of children's safety," according to the complaint. "During that time Abbott engaged in a scheme to maximize revenues and inflate the Company's stock price while disregarding and then concealing lapses in safety protocols that ultimately were linked to serious infant illnesses and even deaths."
Abbott Lawsuits Over NEC Caused by Similac
Abbott also faces similar claims of placing profits before the safety of babies in several hundred NEC lawsuits currently being pursued by families of premature infants who developed a devastating and often fatal gastrointestinal condition after being fed the company's cow's milk products in the hospital or NICU.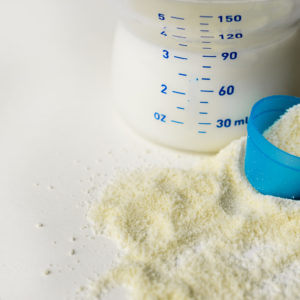 That litigation involves allegations that Abbott has failed to warn about the risk that premature infants may develop necrotizing enterocolitis (NEC), which causes a destruction of the intestines, often resulting in death or life-long disabilities after emergency surgery removes portions of the gut.
Families allege that Abbott not only withheld important warnings and information from consumers and the medical communities about the NEC risk for premature infants, but indicates that the company specifically marketed versions of their formula for use by preemies, and made misleading marketing statements that led parents to believe that the infant formula is equally as safe as breast milk, which studies have shown is not the case.
In addition to Similac NEC lawsuits, similar allegations have also been raised in Enfamil NEC lawsuits filed against Mead Johnson.
Image Credit: Jonathan Weiss / Shutterstock.com
"*" indicates required fields